Weav is a startup developer of a universal API for commerce platforms. Brex has worked with Weav on multiple occasions before. Through all these times of working together, Brex buys Weav. They said that the startup's technology and its team are too good to share.
How Brex bought Weav?
Before Brex bought Weav, they collaborated for the first time last summer. In March, Brex launched Instant payouts for Shopify sellers using Weav's technology. The results they got by April were very impressive. Consequently, Brex co-founders Henrique Dubugras and Pedro Franceschi decided to participate in Weav's $4.3 million seed round as strategic angel investors.
Recently, the fintech announced that it is acquiring a year old Weav for $50M. Brex has made Acquihires before too before. However, acquiring both the company's team and technology is a first for them. Furthermore, with how good Weav's technology is and how fast they were building, Brex wanted to expand into a more strategic partnership. It was then that they started talking about an acquisition.
Why this acquihire is significant for Both companies
Brex offers credit cards, business cash accounts, spend management, and bill pay software together in a single dashboard for its customers. As Brex buys Weav, Brex for one will be able to continue to expand its product and services portfolio. With it, they will become a fully integrated and holistic financial platform for businesses. Thus, Acquiring Weav will accelerate the connectivity of Brex's platform.
After Brex buys Weav, Brex will be expanding its global presence. Weav's 9 person team will get more opportunities to handle leadership too. Brex plans to expand by building an "innovation hub" and hiring employees in Israel beyond Weav's nine-person team, which is located in Israel and New York. CEO Lidor will head up Brex's new Israeli office.
Lidor from Weav added to their side of the story. He said that Weav's mission to connect businesses, creators, and other entrepreneurs with fintech to expand financial access aligned with Brex's mission as well. Lidor added, "After working with Henrique and Pedro, we realized they couldn't be a better partner. We too were so impressed with the Brex team, and had a great time learning from them, and building with them."
Weav's technology helps make Brex even better for our customers

Henrique Dubugras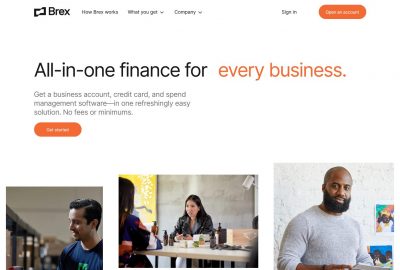 Backstory of Weav
Weav was founded last year by engineers Ambika Acharya, Avikam Agur, and Lidor after participating in the W20 YC batch. The startup was among the wave of fintech infrastructure companies that aimed to give fintech and financial institutions a boost. Specifically, Weav's embedded technology. It was designed to give organizations access to "real-time, user-permissioned" commerce data. This data could be used to create new financial products for small businesses. Its products will allow customers to connect to multiple platforms with a single API developed specifically for the commerce platforms. Businesses use it to sell products and accept payments. Weav has operated under the premise that allowing companies to build and embed new financial products creates new opportunities for e-commerce merchants, creators, and other entrepreneurs.
What made Brex buy Weav?
Since its inception last year, Weav's API call volume has grown by 300% each month.
There has also been increased adoption of cloud and SaaS technologies. This has led to data being stored in a variety of disparate systems. Weav's API aims to build digital connections that enable automatic sharing and analysis. Thus allowing commerce platforms to access their customers' standardized transaction data in real-time.
This is important to Brex because it believes that by using Weav's technology, businesses that use its platform will be able to get financial services and new products "more quickly and precisely."
For example, he added, Brex integrates with platforms such as Shopify. With the acquisition of Weav, it intends to build more lending, visualization, and insights products for its customers.
The Weav team will basically manage any third-party integration so that Brex can be your financial operating system no matter where your data is. You can have everything in one place.
The company did not disclose its valuation at the time of its $4.3 million seed round earlier this year. The $50 million price tag represents a "healthy multiple for all involved," Dubugras said.