Since 2020, as the strings and tapes disappeared from the self-packing corners of large markets, the lower part of the paper box opens and cause the items in the box to spill. Is there a way to resolve this? Maybe Picopico got the solution.
Butigo, the solution brought by Picopico
Picopico's paper box fixing device "Butigo" is a tool that firmly holds the lower part of the paper box without having to use plastic tapes or strings. So when the users pack their things in the paper boxes, it makes the boxes safer to carry, and creates less waste to help recycling. Small in size, it is easy to carry and has no risk of damage, so it can be used semi-permanently.
Picopico is a Korean startup that plans and produces products that can solve everyday inconveniences while protecting the environment. After launching the first cypress air purifier through crowdfunding in 2018, it has successfully funded a total of 5 eco-friendly products. The company staff said the company has the development philosophy "if it is not practical, it is difficult to see the light of the world, no matter how eco-friendly." The company aims to provide useful help to the customers and cleanliness to nature.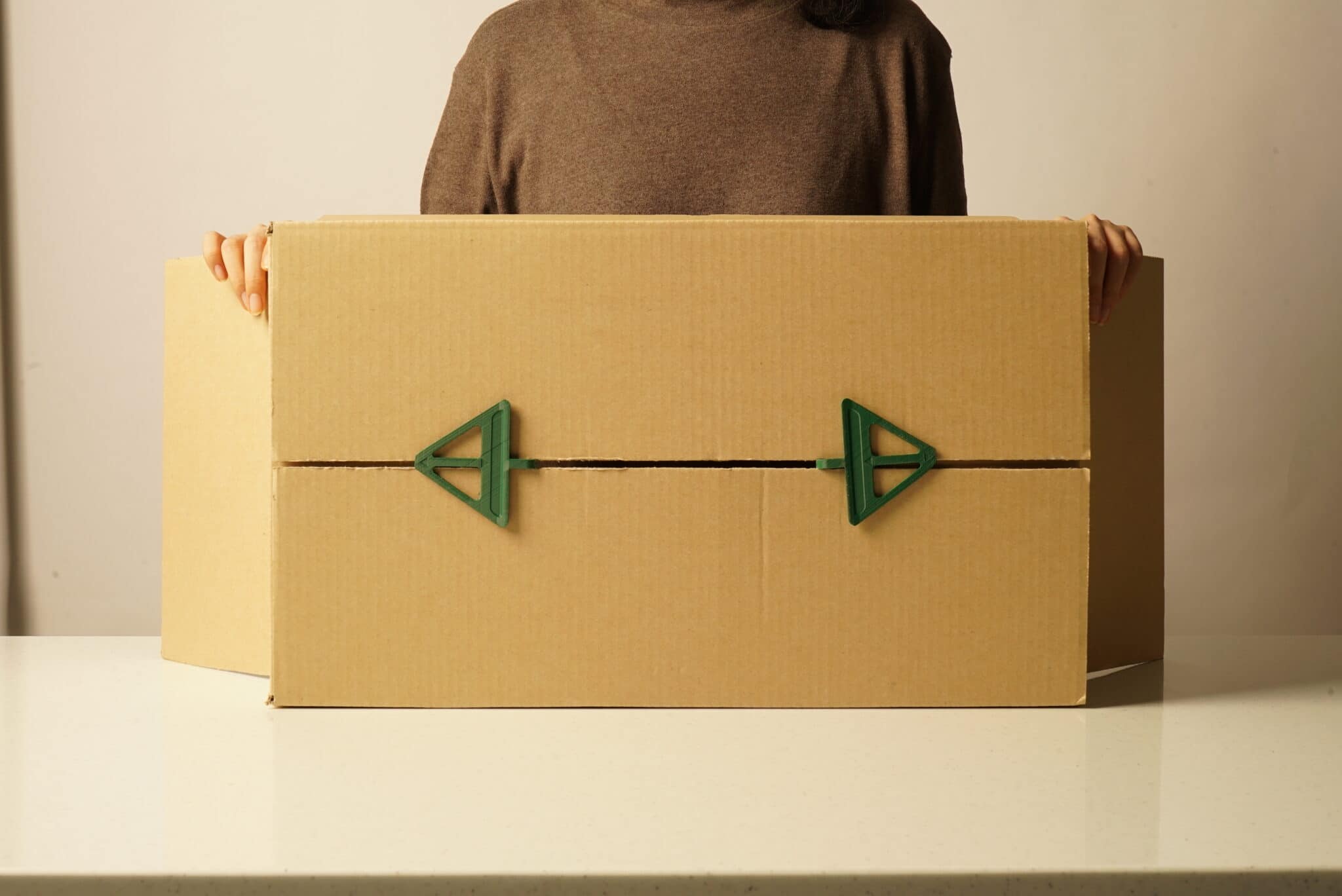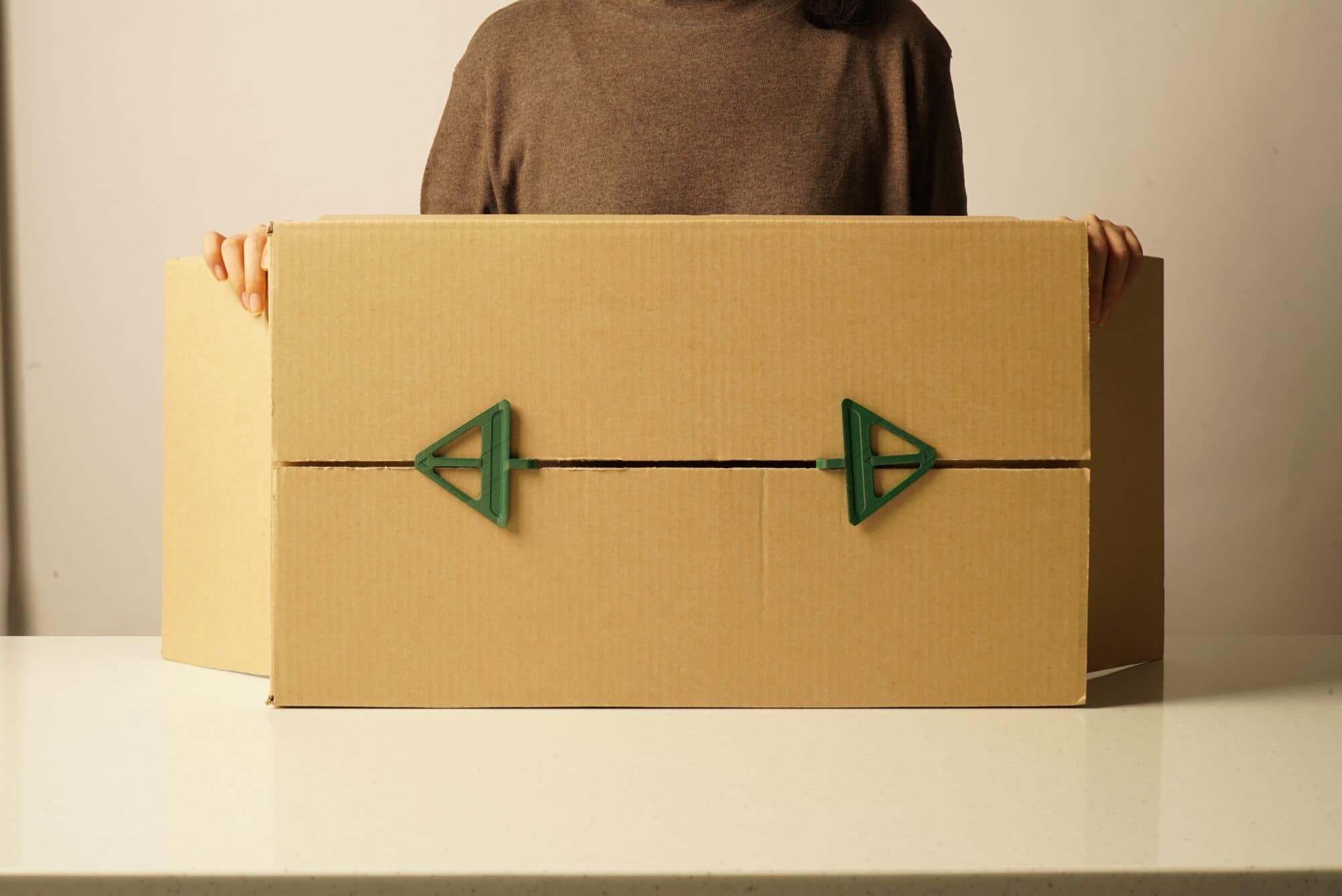 As interest in the environment increases, more people are using shopping carts and eco-bags, but they cannot hold large items, and there is a high risk of spilling when the car is moved or stopped suddenly.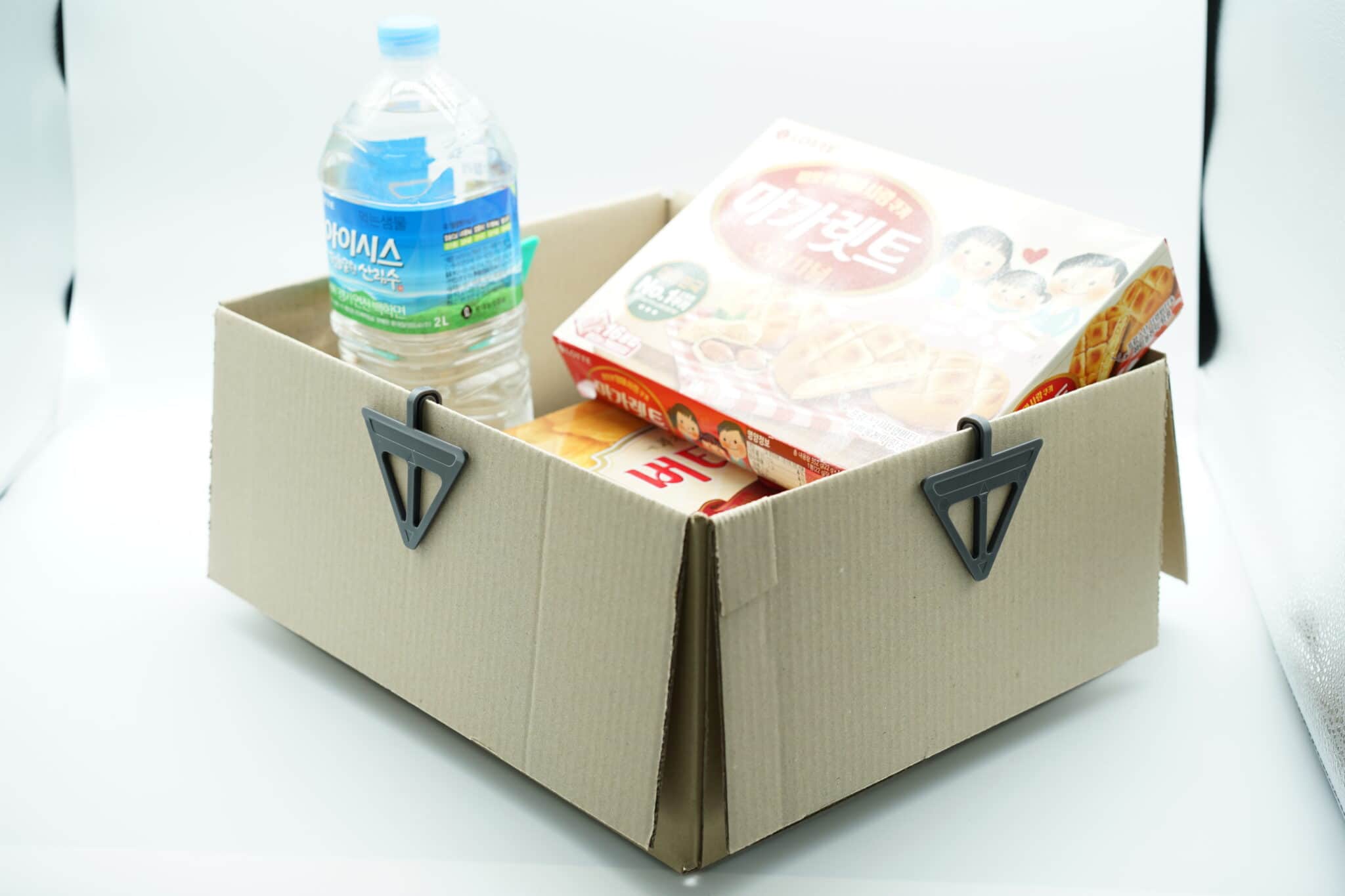 Here, by using paper boxes, more items can be stored, and Butigo can provide support to these boxes. It weighs just 17g per piece, making it easy to carry several of them.
It is also easy to install, so it can be mounted and unmounted easily. Butigo can provide stable support by firmly fixing the two intersections of the outer cover of the paper box with a physical device, withstanding a weight of up to 20kg without tape or string.
This could be done because PC (polycarbonate), a semi-permanent and durable material, was used to make it. It is durable and strong against shock and heat, and it self-extinguishable and weather resistant. Also, it is an eco-friendly material that can be recycled and is not damaged even by strong impact and tensile force.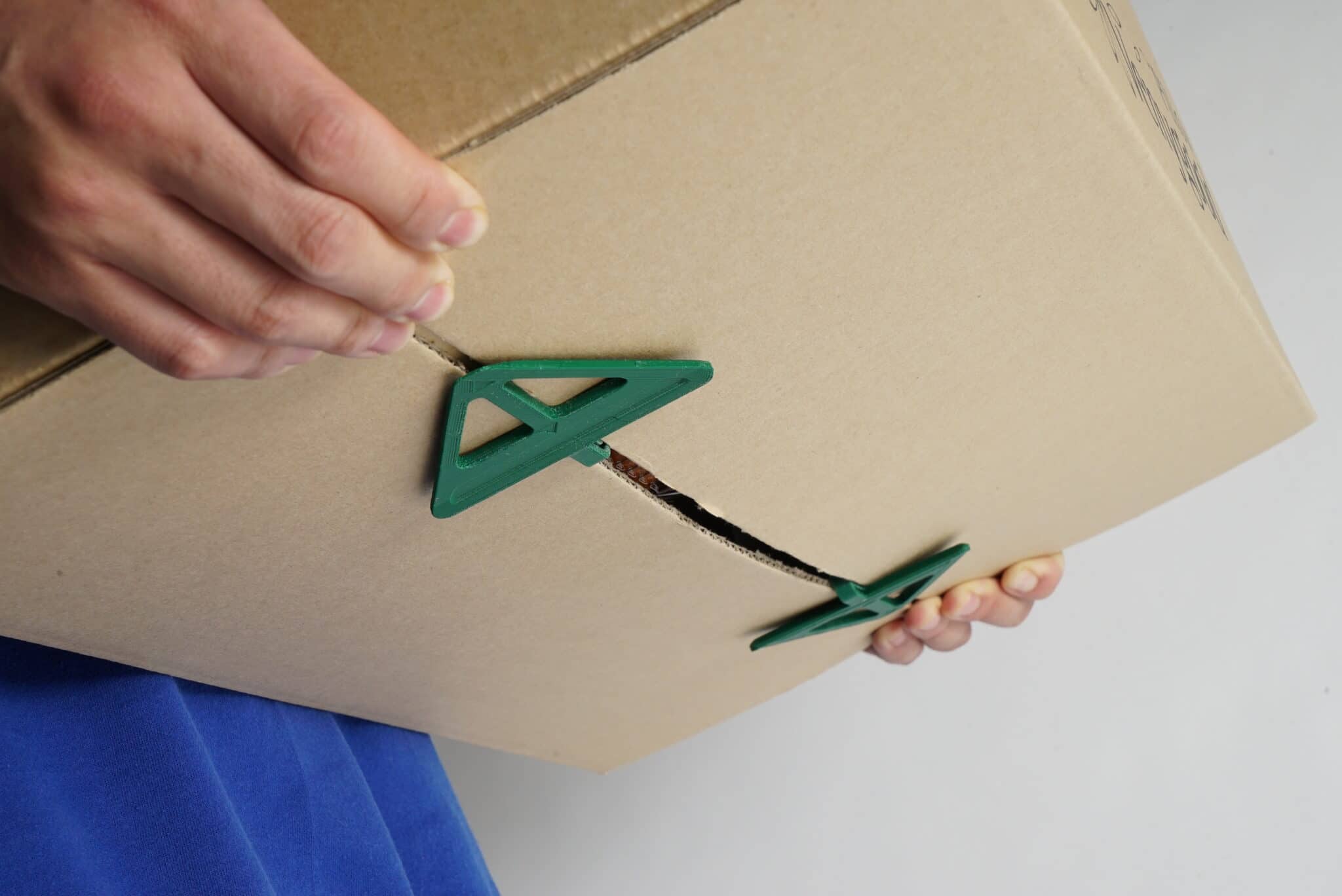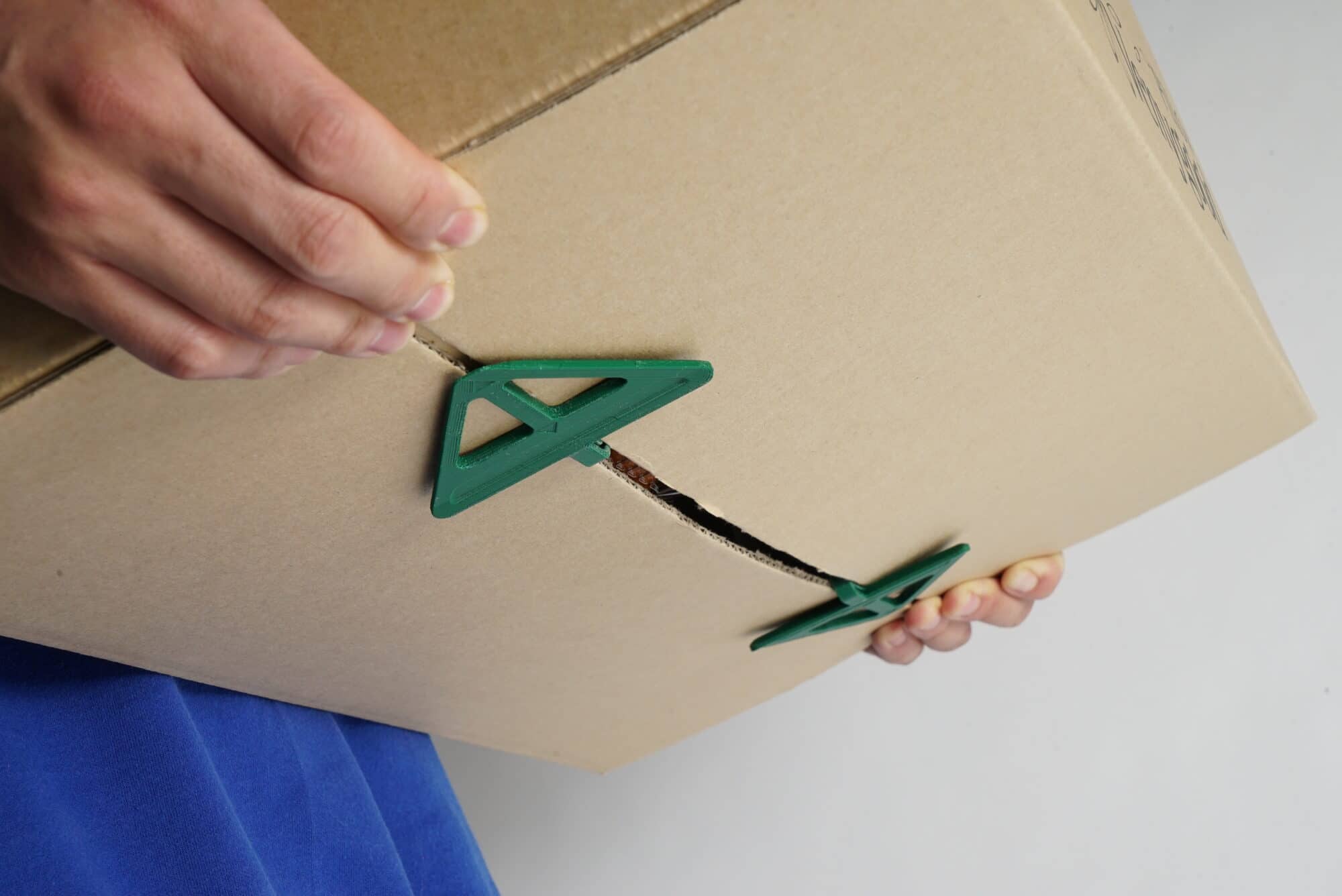 A word from the company
Although Butigo is made of PC-based plastic, it can be used permanently and is an eco-friendly product in the sense of helping to recycle paper boxes. By doing this, the use of disposable vinyl bags can be reduced, thus cutting down the waste of plastics and vinyl.

We started making Butigo from a small idea, but it took a long time to complete it. We have gone through thousands of tests and confirmed that the current reverse-gradient clip type and stable triangular shape hold the most load. With our unrivaled technology, we have acquired domestic patent certification, design registration, two trademark applications, and PCT applications.

Through various character IP licensing agreements, we plan to converge characters to Butigo and approach our customers with likable design, a key ring for example, for the users to carry them every day. We will also minimize the packaging by using eco pouches to upgrade eco-friendliness and utility.