Asia's largest global fitness international convention IDEA® KOREA 2021 held an opening ceremony at Ilsan KINTEX Exhibition Hall 2 on the 27th.
The sports and fitness industries are experiencing a lot of difficulties due to the prolonged COVID-19 and social distancing, but they are facing a new turning point with the recent transition to With Corona. In particular, Idea Korea is the first official event to open its doors giving more meaning to the industry.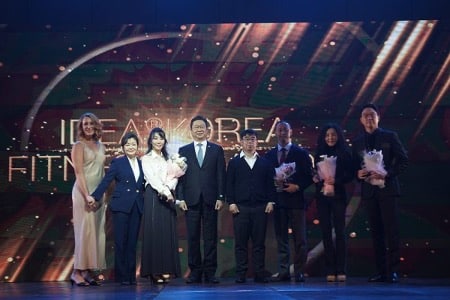 In addition, the IDEA Health & Fitness event, which will be held for the first time in Korea, is attracting a lot of expectations and attention from domestic fitness workers. The event was held for three days with expert lectures and workshops in various fields such as Pilates, yoga, rehabilitation, fitness marketing, personal training, and GX, which opened a venue for knowledge and exchange among fitness people.
IDEA Health & Fitness Association is headquartered in San Diego. Furthermore, it is the most recognized fitness education and convention organization in the world with 39 years of history and tradition. The headquarters holds annual events, and 40 foreign participants, including the United States, Canada, the United Kingdom, and Germany.
Many Korean fitness companies have also participated in IDEA® KOREA 2021, the largest fitness convention in Asia this year. In particular, Power Plate ATZ introduced vibration-based equipment, Barrel Co., Ltd. introduced premium fitness wear, and CAREPILATES also introduced new Pilates equipment.
As it has been two years since fitness people gathered altogether, IDEA® KOREA 2021 also held a fitness award for the fitness industry, professional training, and trainers.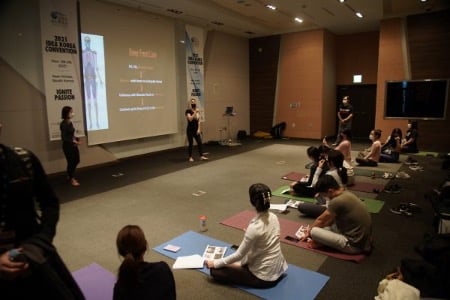 The first winners of the '2021 Fitness Awards' were CAREPILATES Kyung-won Jang (Fitness Leader Award), PREMED Hak-joo Lee (Fitness Innovationist Award), Classic Bar Method Michelle Lee (Fitness Educator Award), and Ji-sook Moon (Fitness Trainer Award).
In addition, the IDEA World Presenter Team is the world's best fitness experts recognized in each field, with 11 overseas presenters and 50 presenters representing Korea giving 150 lectures on fitness trends and new programs.
The event was sponsored by the Ministry of Culture, Sports and Tourism, Convention Bureau, and KINTEX, and at the opening ceremony, Minister of Culture, Sports and Tourism Hee Hwang delivered a congratulatory speech, followed by Amy Thompson Vice President of the U.S. Headquarters and Eun-young Jeon of IDEA Korea.
Eun-young Jeon, Chairperson of IDEA® KOREA said, "I hope that the high-quality fitness convention event will serve as an opportunity to develop and coexist in Korea," adding, "We will try to operate public content and programs that anyone can easily understand in line with the COVID-19 era."
Meanwhile, the main sponsors of this event are Power Plate ATZ, CAREPILATES, SKULLPIG, Balanced Body, STOTT PILATES, FINI, InBody, MOKSHA, Rumble Roller, Fit Steps, The Pilates, REYOOM PILATES, BODYNOX, GARUDA Korea, Classic Bar Method, NAUM Care, WITH Korea, AVOCADO, ACE BODY, SOME & COMPANY, Baleine Pilates, GLIGHT International and more