What to learn from the article. One of the Pangyo-based companies Huons starts developing antiviral drugs including COVID-19 treatment drug

With the attendance of GBSA (Gyeonggido Business & Science Accelerator) President Kim Ki-jun, Huons (CEO Eom Ki-an) concluded the contract for "Technology Transfer and Joint R&D for Raloxifene and 10 New Substances with Proven COVID-19 and Virus Inhibitory Effect" at its headquarters in Pangyo.
The Company for COVID-19 Antiviral Substance
Huons was first selected as the preferred subject for discussion for becoming the "Company for COVID-19 Antiviral Substance and Use Patent Technology Transfer" hosted by the GBSA, and this was followed by the conclusion of the main contract.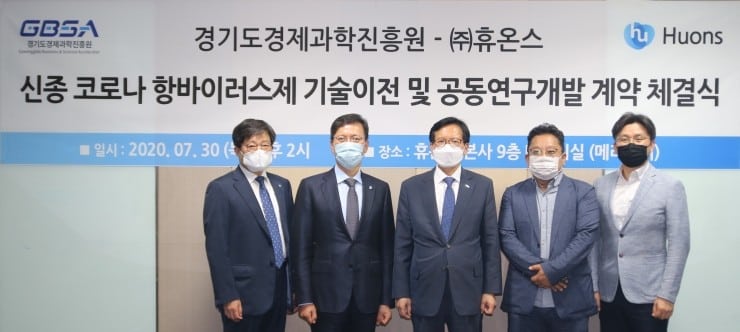 This led to the smooth cooperation between Huons and GBSA. It plans to commercialize raloxifene as a COVID-19 treatment drug as quickly as possible. With the information owned by the government-affiliated organizations, development capabilities of private companies, exchange of overseas clinical and business advancement know-hows. and joint research.
Huons will supply raloxifene to the clinical trial committee for clinical trials. Also start research to find the most effective customized formulation for treatment. As the members of the clinical council, Ajou University Medical Center, Korea University Ansan Hospital, Gyeonggi Medical Center, and GBSA will be participating.
Raloxifene is an osteoporosis treatment drug that has been confirmed to inhibit COVID-19 by joint research between the GBSA and the KCDC (Korea Centers for Disease Control and Prevention) National Institute of Health.
In Exscalate4COV, the project using a supercomputing platform in which the EU is running for the development of COVID-19 treatment drug, raloxifene was found out to have COVID-19 inhibitory effect. So, both the national and global medical field are watching closely for the possibility of raloxifene becoming a treatment drug for COVID-19. As it is a drug that is currently on the market, it signifies that it has already been proven to be safe on the human body.
Huons has also secured exclusive rights to 10 antiviral substances
Which GBSA is researching to correspond to new infectious disease virus that can occur anytime, even when the COVID-19 ends. These substances have been confirmed to be effective for inhibiting infectious viruses that have spread such as MERS and SARS. In additiont of COVID-19 treatment, Huons plans to continue research on antiviral drugs that can fight new mutant viruses.
GBSA President Kim Ki-jun said, "I am very pleased to start this project with Huons. Which has extensive experience in pharmaceutical R&D, commercialization, and overseas expansion. Through close collaboration with Huons, we will speed up the development of COVID-19 treatment drugs."
Huons CEO Eom Ki-an said. "As spread of infectious diseases last longer than expected, the importance of developing antiviral drugs increase more in the future. We will work with GBSA to exchange technology and know-how to develop raloxifene. And other treatment drugs that can fight various infectious diseases."
With this success, Pangyo Techno Valley, where innovative companies in the IT, BT, and NT fields create synergies with each other and a foothold to grow into a global company is made. Made another step forward to strengthen its reputation as the Silicon Valley in Asia.