Aito is a Chinese electric vehicle brand backed by Huawei. It has received more than 10,000 pre-orders for the M7 in just two hours after it was unveiled on Monday. This new model is the brand's second production vehicle featuring Huawei's HarmonyOS operating system for cars.
Why is the M7 of Aito a big deal?
Reservations don't always mean sales. But people are showing interest in the M7 model. It's a signal that Huawei is turning into a serious rival to existing carmakers since entering the burgeoning EV space. The industry experts say that the car has a great chance of becoming a direct competitor to Li one. Li one is a popular large plug-in hybrid vehicle launched by Chinese EV maker Li Auto. It has a similar configuration and price range as that of the M7. Aito has the potential to achieve a sales volume of up to 100,000 units for this year, state media outlet Shanghai Securities News reported Monday, citing analysts from China Securities.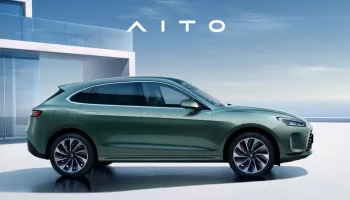 More details on Aito's M7
The M7 has a four-cylinder, 1.5-liter engine developed by Huawei. And a 40.6 kWh battery pack supplied by CATL. This one will be able to go as far as 1,220 km (758 miles) on a full tank and 100% battery charge. It consumes 6.85 liters of fuel per 100 km. That's well below the 7.8 liters of Li Auto's L9 SUV and the 10.8 liters of the BMW X7.
Richard Yu, chief executive of Huawei's consumer business group said that the car uses Huawei's HarmonyOS operating system. This enables the drivers to access "all the mobile services" from Huawei's app store. The six-seater luxury SUV will have a starting price of RMB 319,800 ($47,737) and will be delivered to customers in August. More than 600 Huawei stores around China will provide test drives starting July 23. Furthermore, according to Yu, this number will be increased to over 1,000 stores by year-end.
Context
Huawei and its manufacturing partner Sokon have seen a steady increase in sales of the M5, their first vehicle under the Aito brand shipping 7,021 crossovers in June, a 40% increase from a month earlier.
According to the latest figures, Aito has reached total delivery of 18,317 units in just four months since delivery began in March. Prior to this, the two companies had experienced an initial setback, delivering only around 8,000 Seres-branded electric crossovers in 2021 after unveiling in April, last year.