Chinese electric-vehicle startup Xpeng introduced a flying car startup HT Aero. It has raised $500 million as part of a new round of funding as it pushes to popularize its technology. The company says it plans to mass-produce by 2024.
HT Aero, an Xpeng-affiliated company, said the fund is the largest venture funding round for a startup in Asia's passenger flying vehicle sector to date.
Details and Plans
EV maker Xpeng Motors led the Series A funding round, along with Chinese venture capitalists IDG Capital and 5Y Capital.
A number of other new investors also jumped on board, including Sequoia China, Eastern Bell Capital, and GGV Capitals. HT Aero saw its valuation rise above $1 billion before the investment.
The Guangzhou-based aviation startup plans to use the proceeds to develop a new version of its flying vehicles. They plan these to be for both low-altitude air travel and road driving, scheduled for release in 2024, founder Zhao Deli said in the press release.
"The investment in HT Aero will further accelerate the build-up of our ecosystem to integrate driving and flying," Xpeng chief executive He Xiaopeng said.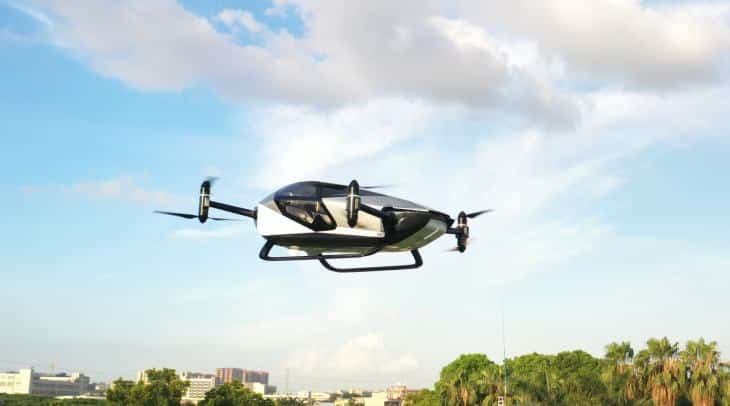 Past Ventures of HT Aero
In June HT Aero unveiled its latest electric passenger drone, Voyager X2. It featured a flight time of 35 minutes and a maximum speed of 130km per hour (around 80mph). Yet the company has no plans for mass production of the two-seater flying vehicle prototype, for now. Caixin (in Chinese) reported this on Wednesday, citing a company representative.
The technology is still at an experimental stage, making market valuation difficult. Morgan Stanley estimated the global autonomous urban aircraft sector to be worth $1.5 trillion in a report published in May 2020. However, they cut this figure to $1 trillion earlier this year.