Huawei ramped up its involvement in the Chinese EV space. It offered Shanghai the first view of its EV Avatr 11 sports utility vehicle (SUV) with partners Changan Automobile and CATL. It is the first model in the Avatr brand. The car features a full suite of Huawei's autonomous driving technology.
Significance of Huawei's EV Avatr in the chinese EV space
The Avatr 11 electric SUV will be the second mass-produced car to get Huawei Hi. It is a complete automotive hardware and software suite that includes the company's operating system Harmony OS. As well as computing platforms for autonomous driving.
The three companies expect the new models to take a significant share in the Chinese premium EV segment. Also to fulfill their ambitions to establish a "world-class, high-end" Chinese car brand, Changan Chairman Zhu Huarong said.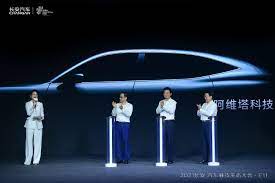 Details
Firstly, this EV model produced with Changan and CATL features a supercomputer developed by Huawei and running at 400 trillion operations per second (TOPS). That compares with Tesla's 144 TOPS for its two-chip full self-driving computer.
The electric crossover will have a driving range of more than 700 kilometers (435 miles) in a single charge with batteries supplied by CATL. It will also boast a high-volt, fast-charging electrical system that will support a maximum of 200 kW of charging power. That is a bit lower than the charging power of Tesla vehicles which, offer up to 250 kW.
Changan plans to build the Avatr 11 SUV in a manufacturing plant in the southwestern municipality of Chongqing. Annual capacity is projected to be 350,000 vehicles, with delivery to begin in the third quarter of 2022. Prices have yet to be released but Chinese media, citing Changan sources, have reported a figure around RMB 300,000 ($47,000).
Context
Changan, CATL, and Huawei announced their smart EV tie-up back in November 2020. That was followed by the establishment of a joint venture with the state-owned automaker as the biggest shareholder in Avatr.
Changan, Ford's Chinese manufacturing partner had announced goals to have 35% of its annual car sales, or 1.05 million out of 3 million vehicles, be EVs by 2025. Rivals Geely and SAIC have previously launched their own premium EV brands, called Zeekr and IM. All this comes as Chinese companies step up their competition with Tesla.
Huawei and state-owned automaker BAIC in April co-launched the Arcfox-branded Alpha S, the first mass-produced vehicle model equipped with Huawei's self-driving technology and priced from RMB 388,900. That's more than 50% higher than the price for Tesla's China-made Model 3, SCMP reported.