Marking the "International Day for Failure" on October 13, experts and officials from related fields will join together to discuss failure and rechallenge. On this occasion, the Ministry of the Interior and Safety (MOIS, Minister Jeon Hae-cheol) and the Ministry of SMEs and Startups (MSS, Minister Kwon Chil-seung) announced that the two ministries will co-host the "World Rechallenge Forum" on October 13 (Wed). This forum will serve as a platform to share the main achievements of the Fail Expo that has taken place for four years and shed light on cultures at home and abroad that encourage people to overcome failure and try again.
First launched by Aalto Entrepreneurship Society (AltoES), a group of students from Aalto University, in 2010, the "Day for Failure" was expanded as the "International Day for Failure" in 2012 with the participation of various countries, including Germany, the UK, and Canada.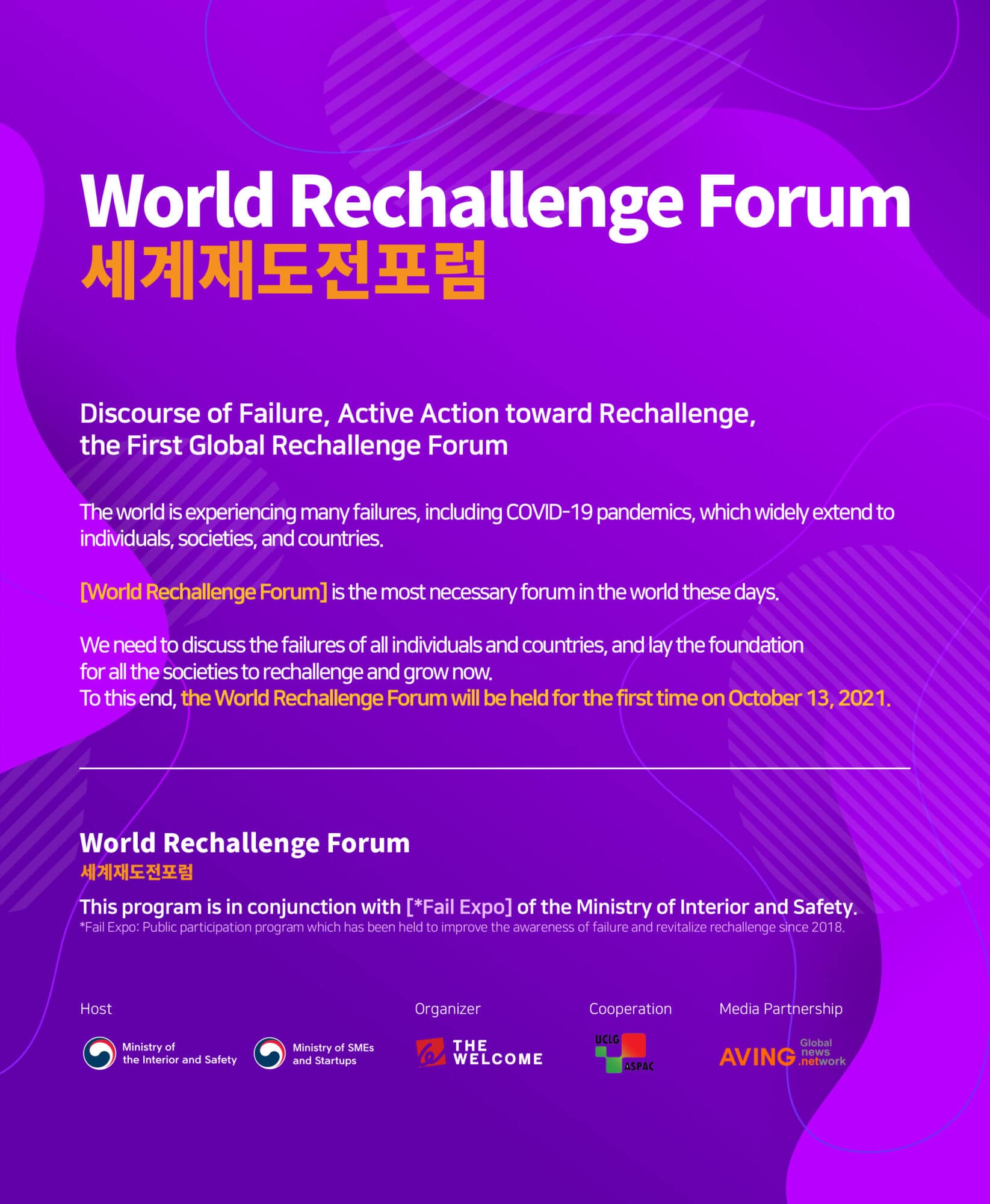 Learn for the COVID-19 and our failures
This year's World Rechallenge Forum will deliver a discourse on the failures of individuals, businesses, and countries deeply affected by COVID-19 and prepare for the shift to "living with COVID-19."
At this forum, experts and officials from related fields will share inspirational stories of those who failed at first and later became successful, ensuring that the fight for success goes on, and promote the spread of the culture of embracing failure inside and outside the country.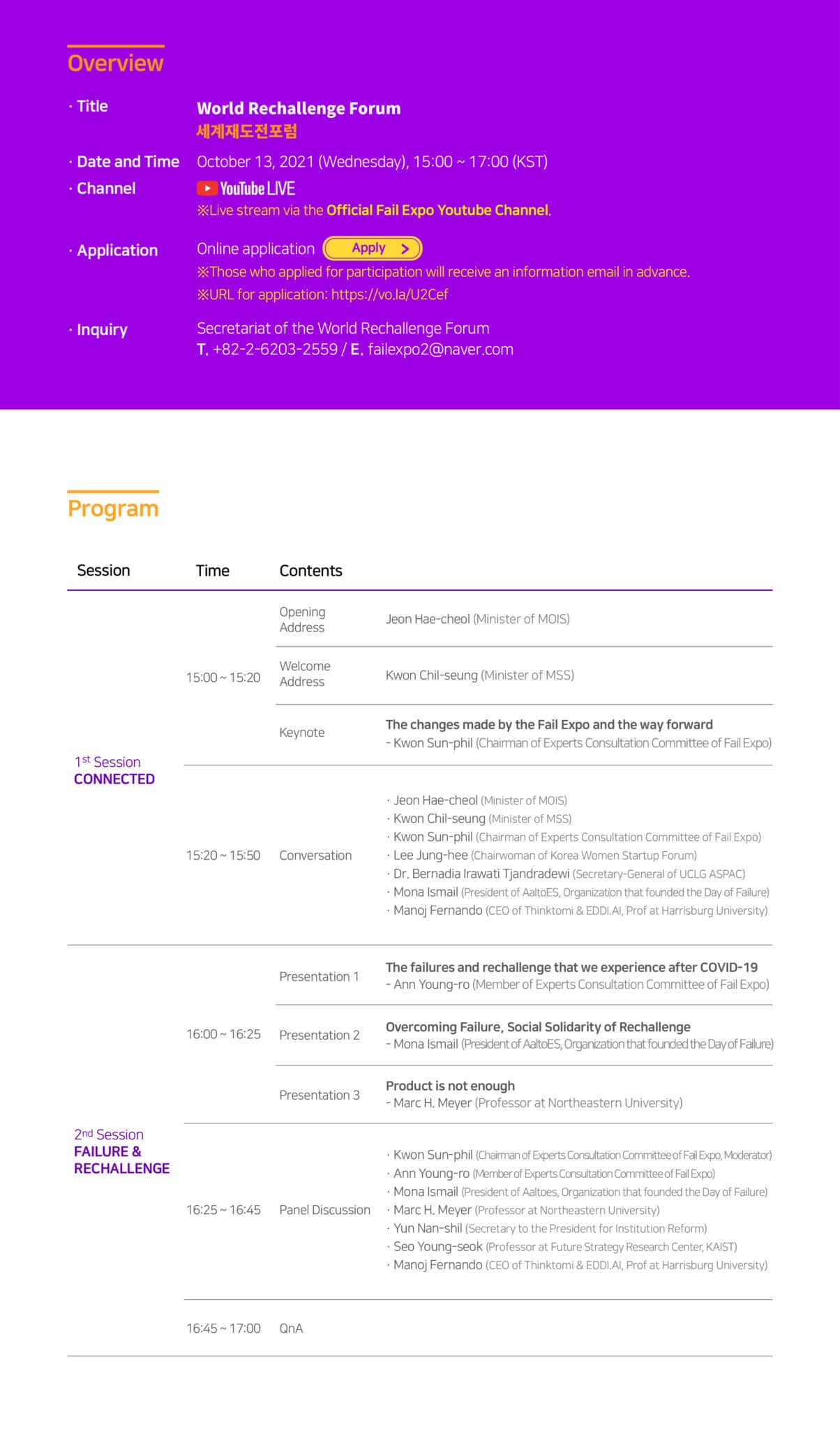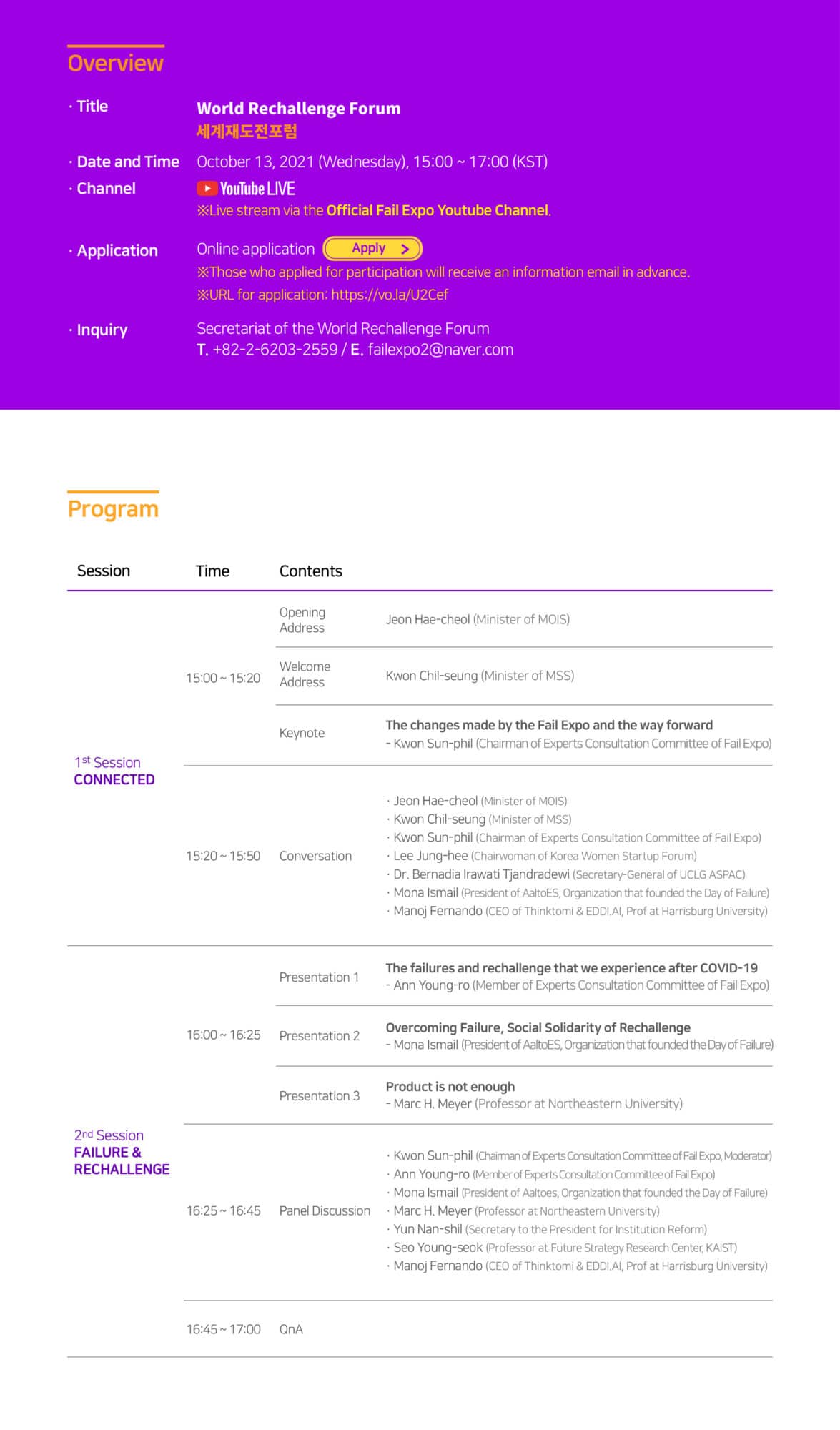 First, Minister Jeon Hae-cheol of MOIS will deliver opening remarks to kick off the first part of the forum. Then, this will be followed by remarks by distinguished speakers, including a welcome speech by Minister Kwon Chil-seung of MSS, a keynote speech by Head of Fail Expo Private Planning Office Kwon Seon-pil.
Focused on "change created by the Fail Expo and path forward," the keynote speech will highlight the role of the Fail Expo in improving public awareness of failure. It will also propose a way to enhance the Fail Expo to support the public to recover from setbacks and set themselves on a new path to success, especially in this era with COVID-19.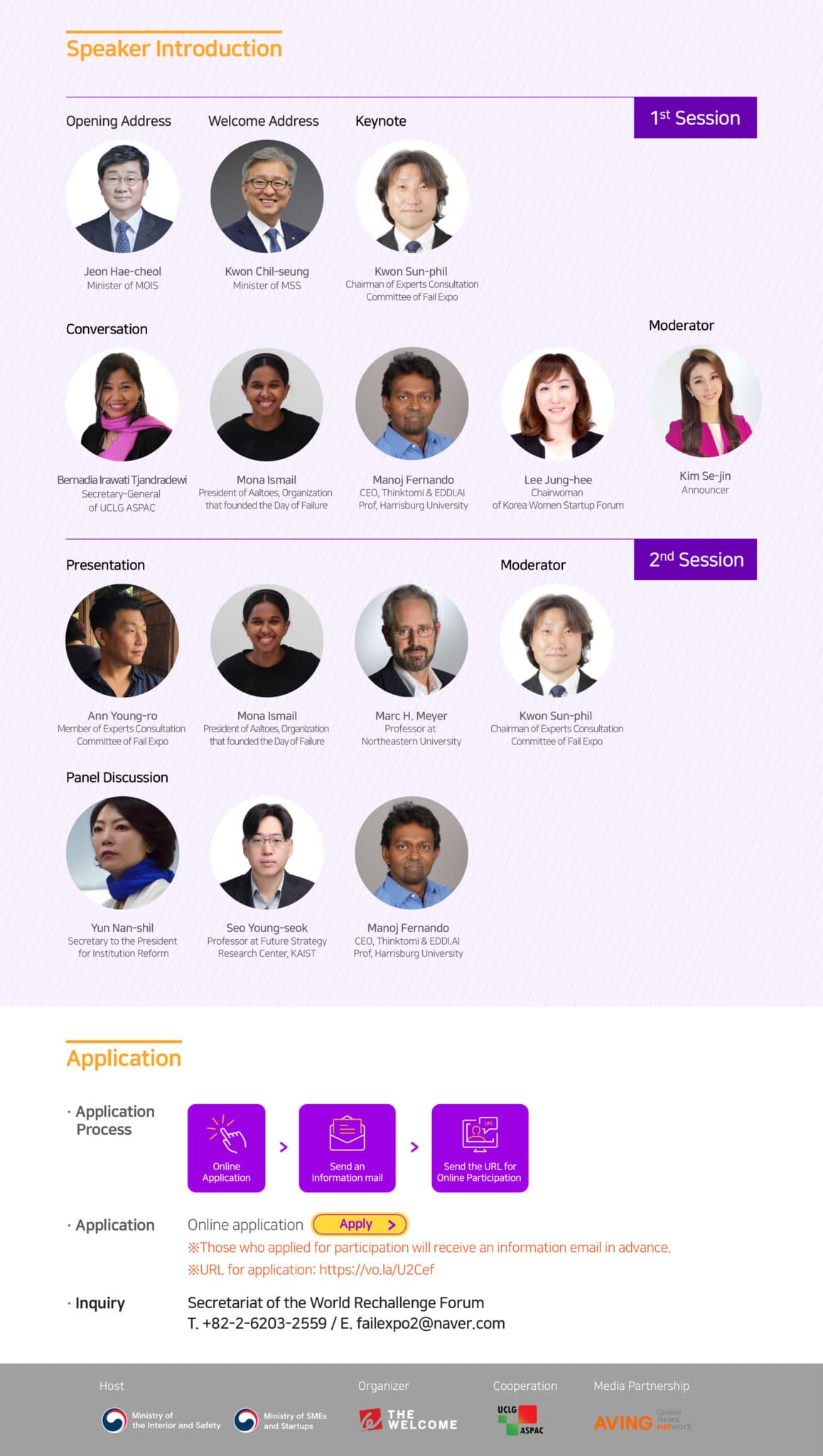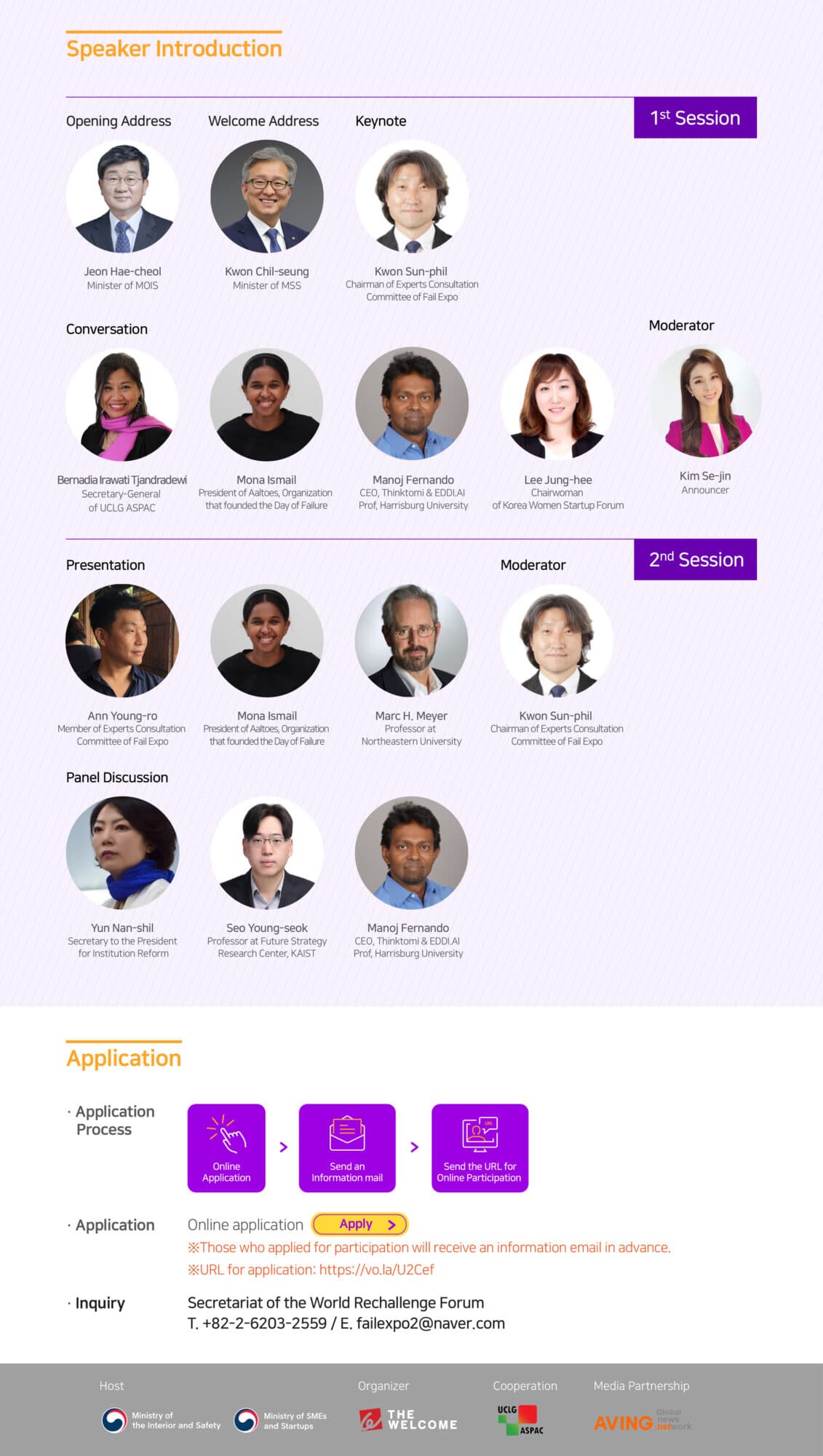 Following this, Dr. Bernadia Irawati Tjandradewi, Secretary-General of United Cities and Local Government Asia-Pacific (UCLG ASPAC), and Mona Ismail, who represents AaltoES and organizes the International Day for Failure, will join the discourse in-person or online, respectively.
The second part of the forum features panel discussions revolving around cases of public and private sectors and businesses at home and abroad who once had a failure in their journeys to success and a direction of society for a better future.
In particular, Mona Ismail will emphasize the importance of improving public awareness of failure. At the same time, she will discuss how society can embrace failure and the need for changing its mindset, introducing what has happened in Finland before and after the Day for Failure.
How and where to watch the Fail Expo
Meanwhile, this forum will be broadcast live from 3 p.m. to 5 p.m. on October 13 via the YouTube channels of MOIS and the Fail Expo.
Video clips will be available in Korean on the Youtube channel of MOIS while in English on the Fail Expo's channel.
Amid the prolonged COVID-19 pandemic, Korea demonstrated its true capability to overcome the crisis and was able to revisit the meaning of failure and rechallenge in a genuine sense. We will continue to remove obstacles so that failure cannot keep people down and shy away from retrying. Moving forward, the government will concentrate its policy capabilities to make experiences of failure recognized as social assets.

Minister Kwon Chil-seung of MSS
The Fail Expo, first launched in 2018, has played a significant role over the past four years in creating a greater awareness of failure and promoting the positive values of the failing experience and a culture of embracing it across society. We hope that this year's World Rechallenge Forum will be a valuable setting for gathering and sharing precious experiences and wisdom from one another with world-renowned scholars.
Through various measures in place, such as the Fail Expo, we will provide full support for helping people go back to normal life disrupted by COVID-19 and taking courage to try again.

Minister Jeon Hae-cheol of MOIS