President Moon Jae-in attended the on-site meeting at SK Bioscience located in Pangyo Technovalley in Gyeonggi-do for the development of COVID-19 vaccine.
The World Health Organization warned that we could face a bed shortage due to the re-spreading of COVID-19 in Europe. As the number of confirmed COVID-19 cases is soaring in Europe and the US every day. The number of confirmed cases worldwide has surpassed 40 million, and thousands of people are dying overnight. This is the concern of the second global pandemic by the experts which became reality. Given this situation, expectations for the development of treatments and vaccines are bound to increase.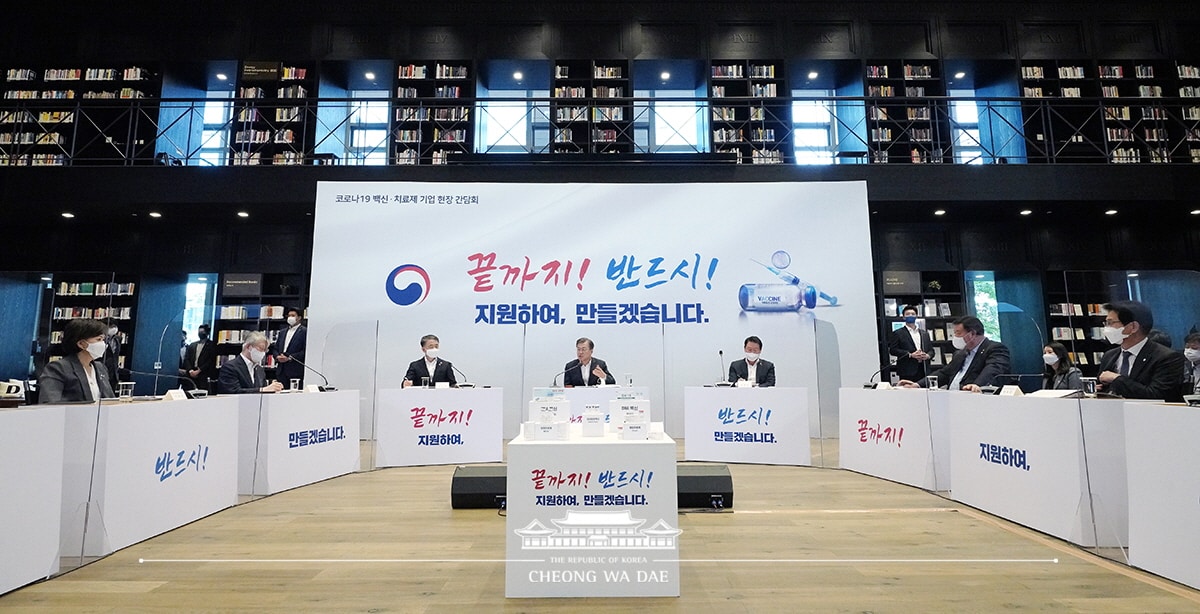 A new COVID-19 drug and vaccine candidate
As doubts have been raised over the efficacy of new drug candidates that had been leading the competition of treatment drugs. So, there is a possibility that Korean companies may be the first to complete the development of the treatment drug. According to the Ministry of Food and Drug Safety, a total of 26 treatments and vaccines have been clinically approved for COVID-19. Of these, six cases ended, and 20 cases made up of 18 treatments and two vaccines are remaining.
In order to fully support the development of treatments and vaccines, the government set up COVID-19 Treatment and Vaccine Development Pan-Government Support Committee. Made up of relevant ministries and private experts, and is actively engaged in research support, regulatory improvement, and resolution of corporate difficulties. In particular, the government plans to provide full support until the development of vaccines and treatments is completed. By setting the next year's budget to 260.4 billion won, an increase of 19% from this year, under the principle of "support until the end."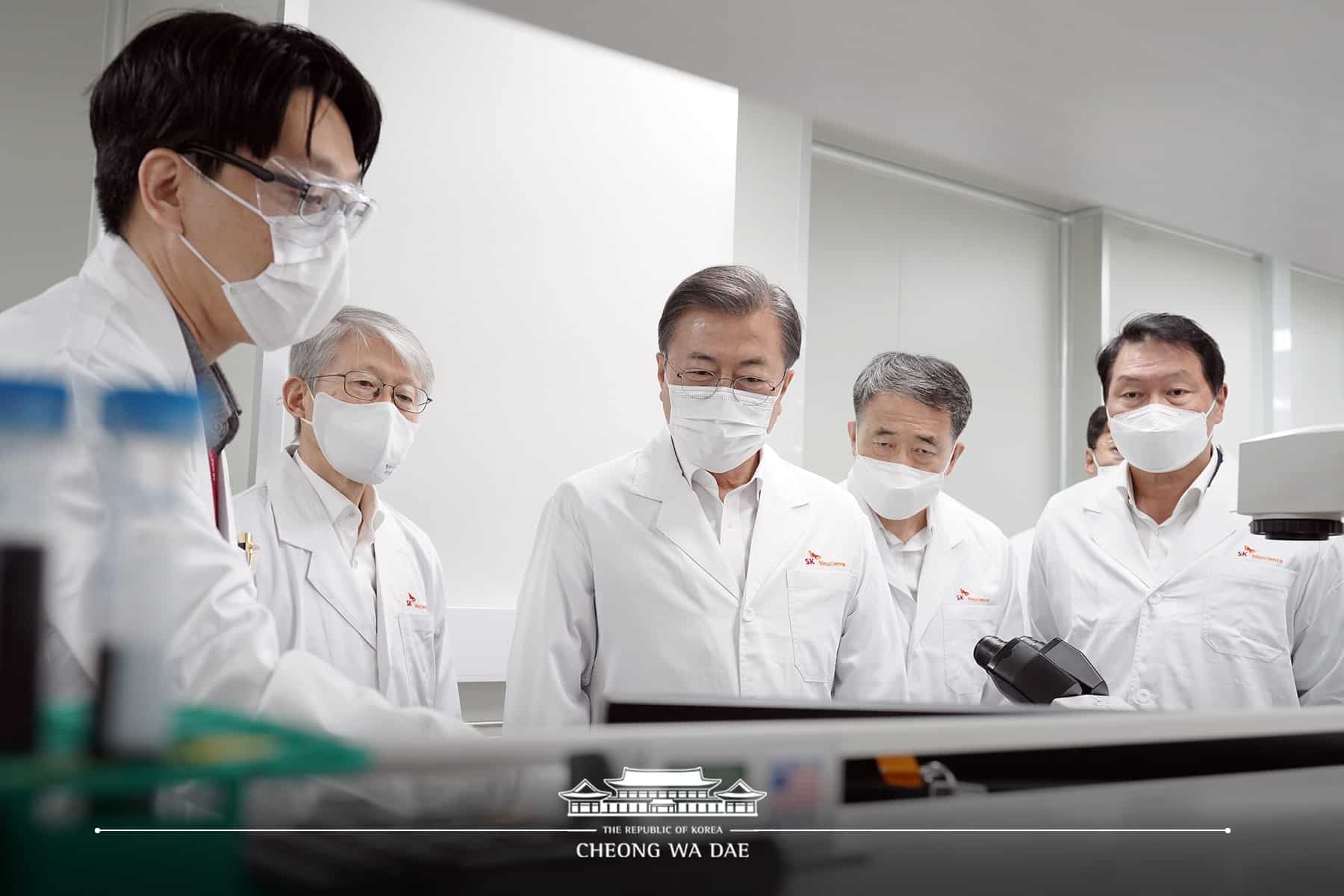 (President Moon Jae-in visited SK Bioscience, the company developing COVID-19 vaccine and treatment drugs on Oct. 15 to check the development progress. From center: President Moon, MSIT minister Choi Gi-young, MW minister Park Neung-hu, and SK Group Chairman Choi Tae-won)
President Moon Jae-in visited the COVID-19 Vaccine/Treatment Development Site
The meeting held at SK Bioscience in Pangyo on October 15 to check the COVID-19 vaccine and treatment situation. And encouraged the company officials, medical staff, and researchers from SK Bioscience, Celltrion, GC.
On the day, Celltrion Group Chairman Seo Jeong-jin said. "For COVID-19, early treatment is important because the illness can cause damage to the organs if not treated early. We will do our best to commercialize the treatment drugs for the public". In addition, SK CEO Chairman Choi Tae-won said. "Vaccine development requires long-term investment and has high uncertainty, but we will definitely achieve it to reach the social value of the company. We promise to gather the entire company's power to complete the vaccine development."
Even if another country develops first and we import it, even if COVID-19 pandemic is over, the development of treatments and vaccines must succeed until the end. If the companies and the government cooperate to the end, it will be the impetus to raise the level of Korea's biohealth industry. Let's see the end.

President Moon
A complete support in Vaccine research
Prior to this, President Moon Jae-in visited the Institut Pasteur Korea in Pangyo on April 9. And promised government-wide support for the development of vaccines and treatments. In Pangyo, there are many pharmaceutical and bio companies. Like SK Bioscience, Celltrion, Genexine, Institut Pasteur Korea, Samjin Pharm Central Research Institute, and Huons. Among them, SK Bioscience, Celltrion, and Genexine are leading domestic companies that are prominent in the development of COVID-19 treatments and vaccines.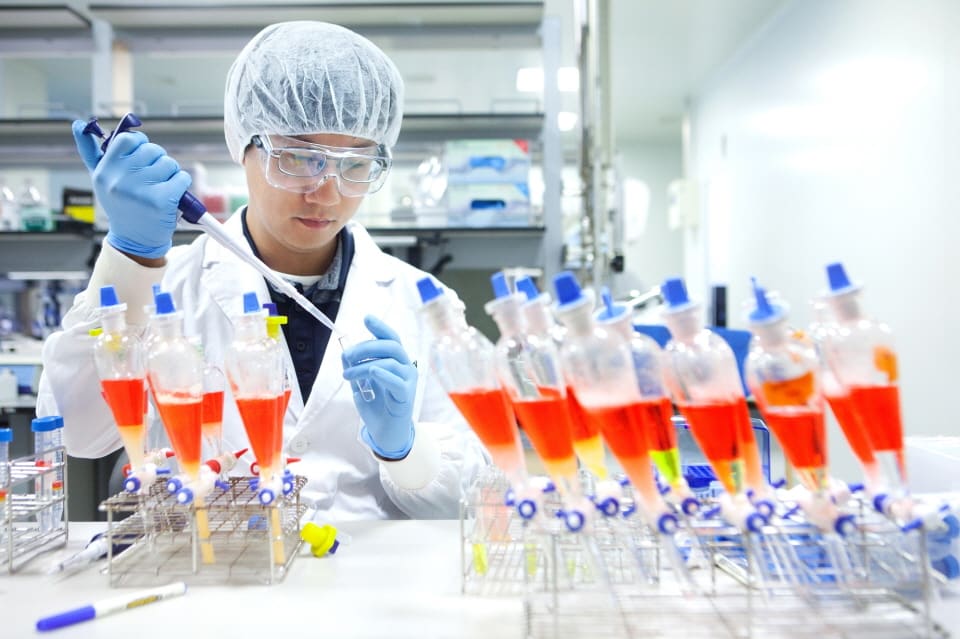 On October 8, Celltrion received approval on the IND of Phase 3.3 of CT-P59, which is the prevention clinical study on COVID-19 antibody treatment drug from the MFDS and began the prevention clinical trial. Also, on October 7, SK Bioscience applied for MFDS approval of Phase 1 clinical trial of its COVID-19 vaccine. With this, Genexine, a pharmaceutical bio company in Korea, is also considered to be leading the way in vaccine development. Genexine is currently conducting Phase 1 after being approved for clinical trials (Phases 1 and 2a) of GX-19, a vaccine candidate for COVID-19 in June.
According to the "2020 Pangyo Technovalley Resident Company Survey" conducted by Gyeonggido Business & Science Accelerator and Technology. The number of resident companies as of 2019 was 1,259, and about 93% of the resident companies were in high-tech industries. Among them, 164 companies which account for 13% are biotechnology-relatedcompanies, having R&D bases instead of production bases. Proving that Pangyo is a mecca to lead the future bio industry.