Brazil's QuintoAndar lands $300 million in a Series E round of funding that values it at an impressive $4 billion. The São Paulo-based proptech has developed a real estate marketplace focused on rentals and sales. It has seen impressive growth in recent years.
Why is the round worth being noticed?
There are a few reasons this round is notable for. Firstly, the valuation is high by any standards, especially for a LatAm company. It represents an increase of four times from when QuintoAndar raised a $250 million Series D in September 2019.
The fact that the Silicon Valley-based Ribbit Capital led its Series E financing is also noteworthy. The round also saw participation from SoftBank's LatAm-focused Innovation Fund, LTS, Maverik, Alta Park, and many more.
Ribbit Capital is known for focused early-stage investments in the fintech space. It has a history of backing up startups like Coinbase. Hence, its bet on QuintoAndar stands for a clear faith in the company's product. It shows Ribbit capital's confidence in Quinto's plans to branch out from the current model into a one-stop real estate shop. A shop that offers mortgage, title, insurance, and escrow services.
The unique brand image of QuintoAndar
The latest round brings QuintoAndar's total raised since its 2013 inception to $635 million.
Ribbit Capital Partner Nick Huber said QuintoAndar has over the years built "a unique and trusted brand in Brazil" for those looking for a place to call home.
Huber said, "Whether you are looking to buy or to rent, QuintoAndar can support customers through the entire transaction process: from browsing verified inventory to signing the final contracts". "The ability to serve customers' needs through each phase of life and to do so from start to finish is a unique capability, both in Brazil and around the world."
QuintoAndar describes itself as an "end-to-end solution for long-term rentals" that, among other things, connects potential tenants to landlords and vice versa. Last year, it expanded also into connecting home buyers to sellers.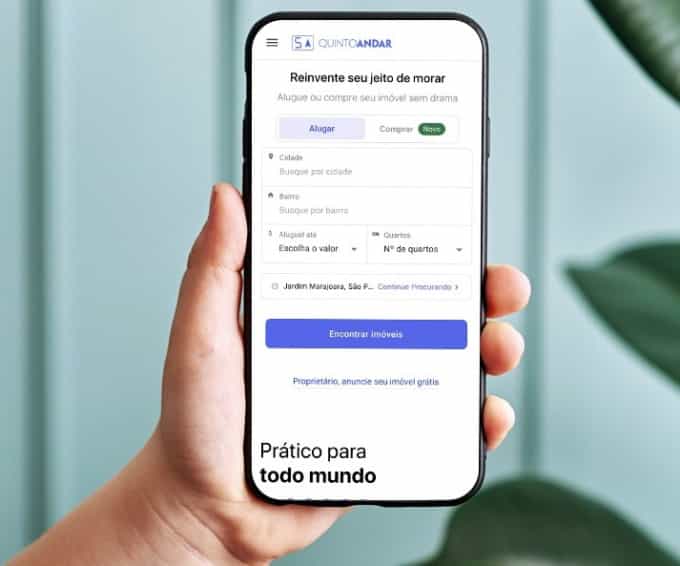 Why are so many high-profile investors interested in QuintoAndar?
Considering the core service of the platform is to guarantee rents to the landlords, QuintoAndar prepared itself for the worst. However, they were able to make it through gracefully.
"In the beginning, we were afraid of the implications of the crisis but we were able to honor our commitments". "In retrospect, the pandemic was a big test for our business model and it has validated the strength and defensibility of our business on the credit side and reinforced our value proposition to tenants and landlords. So after the initial scary moments, we actually felt even more confident in the business that we are building."

Braga, CEO
QuintoAndar describes itself as "a distant market leader" with more than 100,000 rentals under management and about 10,000 new rentals per month. Its rental platform is live in 40 cities across Brazil, while its home-buying marketplace is life in four. Part of its plans with the new capital is to expand into new markets within Brazil and Latin America as a whole.
Now, the 2,000-person company is looking to begin its global expansion with plans to enter the Mexican market later this year. With that, QuintoAndar is looking to hire "top-tier" talent from all over.
When a bad experience becomes a positive inspiration
The concept of this particular business idea came after the CEO, Braga, went through a similar ordeal while trying to rent an apartment in Sao Paulo.
He has known first-hand how difficult of a task it is to get loans and do property research, finding a guarantor on your own while hunting for a good location. Especially when not much information was available online.
"Overall, I felt it was a very inefficient and fragmented process with no transparency or tech. There was all this friction and high cost involved, just real tangible problems to solve."

Braga
"Little by little, we created a platform that consolidated supply and inventory in a uniform way," Braga said.
QUintoAndar took the search phase online for the first time. The need for the renter to provide a guarantor was also eliminated by them. At the same time, they made sure that the landlord would get their rent on time, every month.