Countries around the world are fully focusing on discovering startups to create new industries that will lead future economic growth. Innovative ideas and new technologies in Industry 4.0 and biotechnology are born every day. And with the development of information and communication, they are commercialized in markets all over the world the next day.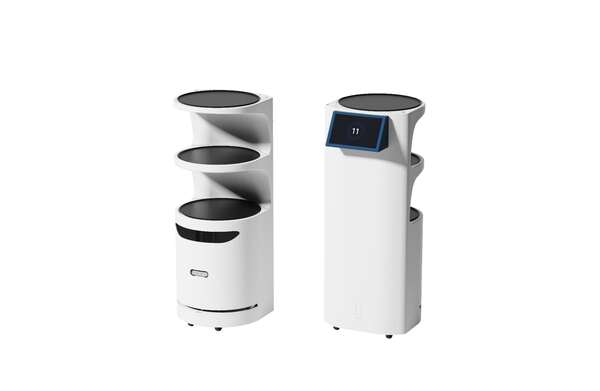 We will contribute to the creation of quality jobs by responding to the exponential changes occurring inside and outside and fostering promising startups with global competitiveness.

Center for Creative Economy Innovation in Chungbuk (Chungbuk CCEI)
An autonomous robot by a Korean startup
RGT, one of the companies fostered by Chungbuk CCEI, is an indoor autonomous robot developer founded in February 2018. It has developed the world's first multi-functional modular serving robot SEROMO. And is currently receiving a lot of attention as it is scheduled to test drive at one of Korea's famous department stores in mid-August 2020.
SEROMO is a compound word of "serving" and "promotion". It is a serving robot that provides both serving and promotion at the same time.
SEROMO runs completely autonomously indoors without additional equipment. For safe driving, AI technology is used to identify people's movements. And smart evasive driving is performed to avoid the tables in the store. The size of SEROMO is 430mm*430mm*1200mm. It can load food up to 50kg, and it can drive up to 12 hours. When the food arrives at the customer, it is notified by voice signals, LEDs, and displays.
How that autonomous server is working ?
The operation of SEROMO is very easy and simple. The waiter places the food on the tray, presses the desired table number, and SEROMO delivers the food safely and quickly to the right table. It has a system that automatically returns when a customer unloads food and touches it.
When the promotion module of SEROMO is applied, it displays saved videos in 3D holograms to provide information on the dishes. Therefore, it can take the role of promotion and customer greeting in and out of the restaurant. SEROMO can take care of simple and repetitive tasks, and employees can provide more services to customers, thereby improving the service quality.
RGT plans to continuously develop products through the pilot introduction of SEROMO serving robot to Galleria Department Store. In the future, it is planning to show the excellence of Korean robot technology by entering the US, France, and Australia markets in addition to the domestic market.