At CES 2023, Standard Energy presented their Vanadium Ion Battery, specifically geared towards Energy Storage Systems that far exceed the capabilities of traditional batteries. In the 'Seoul Tech Pavilion' of the main exhibition hall of "The most influential tech event in the world", at Las Vegas, the advanced energy storage was showcased from January 5 until the 8.
Standard Energy is a Technology Pioneer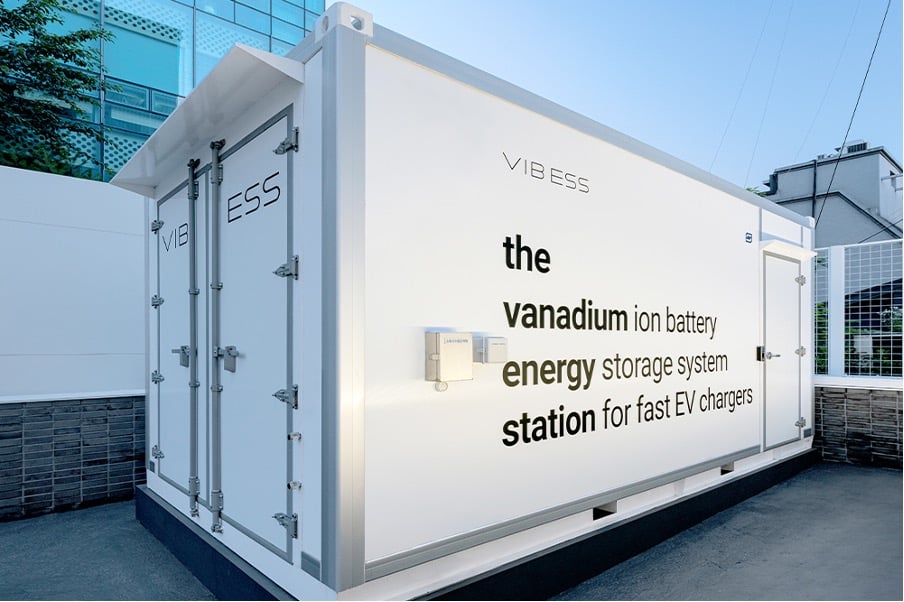 Established in the summer of 2013, the start-up was created by researchers from the Korean Advanced Institute of Science and Technology, that were working on a battery-based ESS. In April 2020, they succeeded in introducing the world's first Vanadium Ion Battery, and secured investments as high as 95 billion KRW from SoftBank Ventures in 2021 and LOTTE Chemical in 2022.
Named "Technology Pioneer of 2021" by the World Economic Forum, they continued their success by launching Charger5, which links the battery to a charging station with outstandingly fast charging speed. As of this year, Standard Energy hopes to commence mass production and advancing sales of their Vanadium Ion Battery ESS and a number of new possible applications.
The Vanadium Ion Battery is unlike any other
It operates fundamentally differently than lithium-ion batteries that are commonly used for portable devices, and are more advanced from vanadium redox flow batteries with which they share their main component.
The ESS is made based on a water-based liquid electrode that has a low risk of ignition, thermal runaway or overheating, as outside temperature has no adverse effects on it. Additionally, the capacity does not deteriorate with time, as Vanadium Ion Batteries are known to keep their capacity with as little loss as 5% over the course of 10,000 cycles between charging and discharging at a tested stable rate.
Their energy efficiency is at an equally outstanding 97%, with the ESS unit also showing an energy efficiency in the mid-90% range. Thus, it is a useful device to be employed in renewable energy storage devices. The collaboration opportunities continue, as they are now in a partnership with Hyundai Heavy Industries to create an ESS solution to be used in ships. Furthermore, a power trading business with a solar energy-linked RE100 company is planned for a low-carbon solution.
At CES, or the "Consumer Electronic Show" the world's greatest IT exhibition, held by the Consumer Technology Association (CTA) annually during January in Las Vegas. Here, the CTA makes it their goal to promote the growth of consumer technology companies and to create networks among the technological leaders and innovators of the present and future. The event unites a great range of sectors, and has been a much anticipated event since its inception in 1967.
Alongside this specific leader, Standard Energy was joined in the Seoul Tech Pavilion by other future visionaries that are in similar fields – And we have no doubt that the audience at the exhibition at CES is now also looking forward to advanced battery technology, with fewer hang-ups and faster charging times than any iPhone in cold weather could dream of!