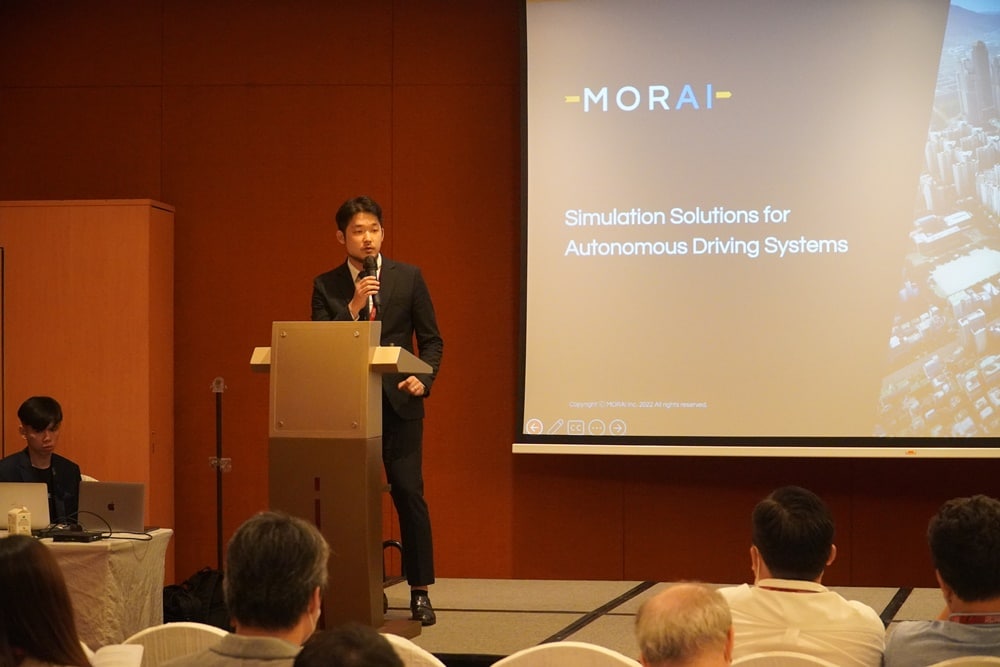 MORAI Inc. (CEO Ji-won Jung) participated in 'SWITCH 2022 (The Singapore Week of Innovation and Technology 2022)', a global startup exhibition held at the Singapore Resort World Convention Centre from October 25th (Tue) to 28th (Fri).
MORAI is a company that develops simulation software necessary to verify the safety and reliability of autonomous driving systems. It was established by autonomous driving researchers from KAIST(Korea Advanced Institute of Science & Technology) in 2018 when they felt in need of a simulation platform for autonomous driving. It is the only company in Korea to develop and supply a full-stack autonomous driving simulation solution including a core engine.
In addition, by completing the digital twin automatic construction technology with HD map data, they can support customers to more accurately verify autonomous driving software and systems by reenacting the complex road environment in the same virtual environment. They have established cooperative relationships with Korean and foreign companies with their independently developed autonomous driving simulation technology and have also attracted investment in recognition of their competitiveness. From 2018 to 2021, they attracted seed and Series A investment in recognition of outstanding technology from companies and investment institutions such as NAVER, Hyundai Motor Company, Kakao Ventures, and Atinum Investment. After that, they attracted 25 billion KRW series B investment from existing investors and new investors like Korea Investment Partners, KB Investment, and Korea Development Bank in February 2022, achieving a cumulative investment of about 30 billion KRW.
MORAI is currently supplying simulators to major domestic companies such as Hyundai Motor Company, Hyundai AutoEver, Hyundai MOBIS, NAVER LABS, and 42dot, as well as research institutes and universities such as the Korea Automobile Testing & Research Institute and Korea Automotive Technology Institute. They are entering the global market by cooperating with international companies like NVIDIA, Amazon Web Service(AWS), Velodyne Lidar, Ansys, and more.
Building digital twins based on HD map in one day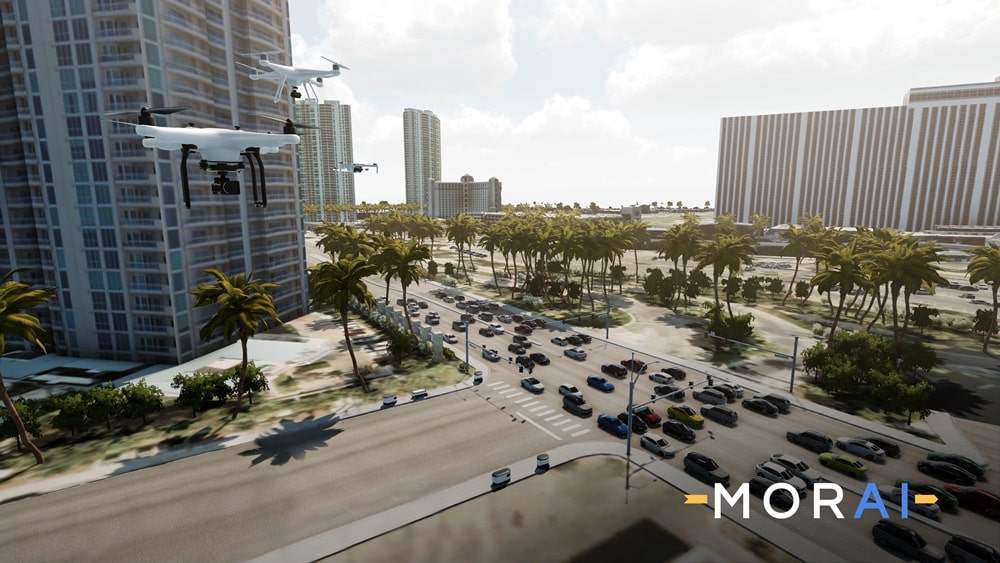 'MORAI SIM' – MORAI's simulation platform – provides a realistic high-fidelity simulation environment and a virtual platform that includes sensors, vehicle models, and scenarios. Scenario tests that are difficult to verify on real roads, such as the risk of pedestrian collisions, can be repeated tens of thousands of times, enabling reliable and safe verification. The recently developed 'MORAI SIM CLOUD' is characterized by introducing a SaaS method to the existing product and producing the same effect as simulating thousands of units simultaneously with one PC in a cloud environment without a separate program.
Various edge-corner case tests are possible by creating realistic test scenarios in a virtual environment based on real-world data. Vehicle-in-the-Loop (VIL) tests are also possible by applying mixed reality technology. For an accurate simulation of the vehicle movement, it offers high-precision vehicle dynamics customization and a variety of sensor models like cameras, LiDAR, GPS, radar, and inertial measurement units (IMU). With automatic annotations including weather and light control functions, the user-customized data set can generate automatically. MORAI's server distinguishes itself by enabling the distribution of computational processing for sensors and vehicles via facilitating fast simulation.
An official from MORAI said, "Our strength lies in the automatic conversion of digital twins based on HD map data. MORAI has developed its technology that automatically builds digital twins based on HD map data and provides an environment that can simulate the road on which autonomous vehicles will run with a high degree of completeness. We can proudly say that MORAI's automation technology is of the highest quality in the world. 95%-level of automation is possible, and a city the size of Las Vegas in the US can be implemented fast, which would take about a day. Not only Korean companies but many companies from overseas are showing interest in this technology."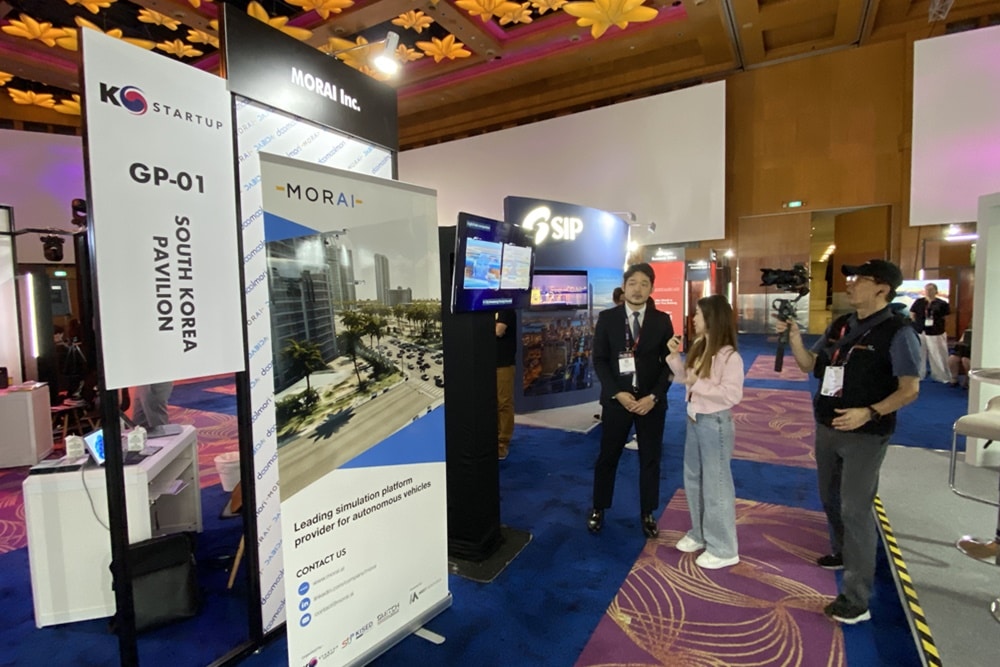 MORAI built a digital twin simulation environment with a precision of 10cm by using HD map data. Currently, MORAI's simulation platform 'MORAI SIM' has been used to build locations in Korea like Seoul, Pangyo, and Daegu, and in 20 regions around the world, including Singapore, Las Vegas, San Francisco, and Seattle from the US, in cooperation with overseas map partners.
They also have vehicle modeling technology similar to actual vehicles, so it is possible to manufacture vehicles for simulation with the same ratio and size as in reality. The shape of the vehicle sensor can also be maintained and arbitrarily placed in the desired position of the simulation. It uses vehicle behavior test data to support movements similar to actual vehicles and supports sedans, SUVs, commercial vehicles (bus·truck), and urban air mobility (UAM).
Having its 7th iteration this year, 'SWITCH 2022' is a global startup exhibition hosted by Enterprise Singapore, a public institution under the Singapore Ministry of Trade and Industry. Two organizations in KISED and Singapore's KSC Center (KISED 10, KSC Center 10) selected 20 Korean startups attending 'SWITCH 2022'. Between October 25th and 28th, the attending startups will be in the main event, where they will partake in programs like operating the K-STARTUP demo booth, K-STARTUP demo day, investor meetings, networking events, and pitching contests.