Uppbeat is a U.K.-based music platform launched in January 2021. It has been developing a service that makes it easier for content creators to find quality free music to use in their videos. They can also publish it to platforms like YouTube, Twitch, TikTok, and others. The platform has more than 500,000 users on board. The startup is announcing the close of its £4.6 million GBP ($6.15 million USD) Series A funding round to help further grow its business.
About Uppbeat
Uppbeat was developed by Lewis Foster and Matt Russell, the U.K.-based co-founders of another music-licensing company, Music Vine. The founders recognized the opportunity in addressing the growing need to offer a free music resource for the creator space. Today, over 100 million people share content across social platforms. But there weren't that many great options for free, high-quality, music.
Uppbeat helps to eliminate the headaches that come with copyright claims on music used within creator content. It does so by offering an alternative to expensive music licensing platforms as well as free music options. For example, YouTube's Audio Library or Creative Commons' music.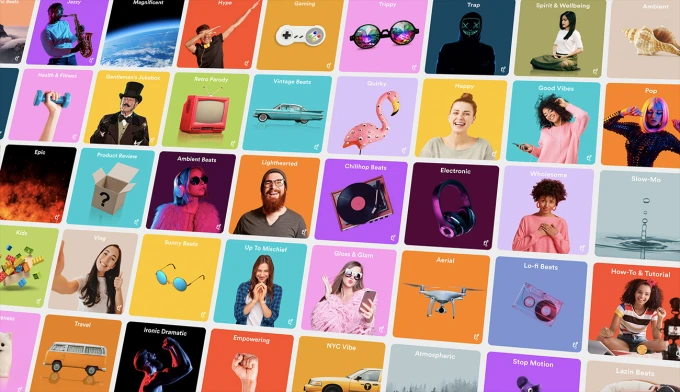 Features
Uppbeat leverages the freemium model. That is, it allows creators to sign up for an account. This account provides access to around 50% of the site's catalog and provides 10 downloads per month. The Premium subscription ($6.99/mo) provides full access and unlimited downloads (a three-year and lifetime subscription is also available).
In addition to music, Uppbeat now offers a sound effects and clips library. It works well for "meme-style" content, via an expansion to the site in September 2021.
The system isn't limited to YouTube. The music and effects can work on nearly any platform used by streamers, podcasters, bloggers, and other social media creators.
Uppbeat artists, meanwhile, keep total ownership of their music and are paid on a rev share basis.
The company says it's now taking on more than 75,000 new users per month and traffic to its site is topping 1 million sessions per month. Retention is high and bounce rates are low, at less than 10%.
Funding and future plans
Though Uppbeat was not able to name their Series A investor, the investor is a strategic backer and leader in the space who didn't want to be disclosed.
Uppbeat plans to work towards the better establishment of its brand presence on YouTube. It will do so by releasing its music there and will engage in more direct partnerships with online communities. It will also use the cash to overhaul its backend and build a smarter user interface with personalization features.
The music platform is also planning to roll out new features for creators. Including one that allows them to curate and share their own playlists. It's something that can give Uppbeat artists more exposure and could help creators earn money. The nine-person Uppbeat team will also expand and will relocate to new office space.