Indian startup Apna raises funds in order to help daily-workers in India to secure jobs. Many people have lost their jobs during the pandemic and India is no different.
With millions of people losing their employment, Several economic activities have witnessed a dramatic slow there.
Who is Apna?
Apple alum is behind the making of this app. It is helping millions of blue and gray-collar workers in upskilling, finding communities, and landing jobs. As the app prepares to scale up, it has raised $70 million in a new financing round. Insight Partners and Tiger Global co-led Apna's $70 million Series B round, which valued the startup at $570 million. Existing investors Lightspeed India, Sequoia Capital India, Greenoaks Capital, and Rocketship VC also participated in the round, which brings Apna's to-date raise to over $90 million.
A 2019 Bollywood song is the inspiration behind the app's name. It is solving the problem of networking that these workers face. Thus, erasing the privilege based bias to some extent.
Griffin Schroeder, a partner at Tiger Global said, "Apna's focus on digitizing the process of job discovery, application, and employer candidate interaction has the potential to revolutionize the hiring process."
What makes this app unique among many others?
The app is available In multiple languages and has more than 70 communities for skilled professionals. For example, carpenters, painters, field sales agents, to name a few. The users connect with each other and share leads, and tips regarding improvements in their skills. It also has a feature that lets users practice with their interview performance, and become eligible for even more jobs.
The startup said it's building Masterclass-like skilling modules, outcome or job-based skilling, and also enabling peer-to-peer learning via its vertical communities. It plans to launch career counseling and resume building features.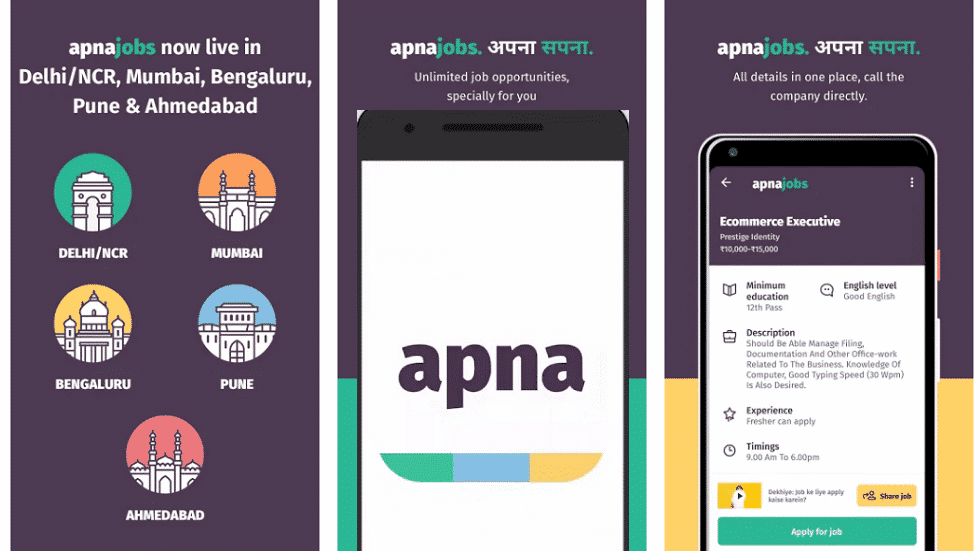 It has dramatically amassed over 10 million users and last month, it facilitated more than 15 million job interviews. All jobs listed on the Apna platform are verified by the startup and free of cost for the candidates. Apna has partnered with some of India's leading public and private organizations and is providing support to the Ministry of Minority Affairs of India, National Skill Development Corporation, and UNICEF YuWaah to provide better skilling and job opportunities to candidates.
Apna has built the market-leading platform for India's workforce to establish digital professional identity, network, access skills training, and find high-quality jobs

Nikhil Sachdev, managing director, Insight Partners
Future plans with the funds raised by Apna
Recruiters like Byju's, Unacademy, Flipkart, Zomato, Licious, Burger King, Dunzo, Bharti-AXA, Delhivery, Teamlease, G4S Global, and Shadowfax, and many more in the country today use Apna's platform. They have to spend less than five minutes posting job posts. And are connected to hyperlocal candidates with relevant skills within two days.
As Apna raises funds, the startup plans to deploy the fresh capital to scale across India. Eventually, it plans to take the app to international markets. Apna is also actively hiring for several tech roles in the South Asian market.
Apna has built the infrastructure and brand awareness in the market to launch in a new city within two days and drive over 10,000 interviews there in less than two days.
"Our first goal is to restart India's economy in the next couple of months and do whatever we can to help," said Parikh, who was part of the iPhone product-operations team at Apple.