Brick.co is a French fintech startup that has prosed a method to make it possible for people to start investing in French real estate with just €10. It sounds easy, right? It is, in fact, as easy as it sounds. From creating your account to validating it, selecting a property, and receiving your yields, everything is explained on their website in an easy and detailed way.
How Bricks works
Their team of experts selects and negotiates the acquisition of rental properties throughout France. These properties consist of several lots, generally already rented. They make it possible to carry out real estate transactions with high added value, usually inaccessible to the majority of individuals. Furthermore, each building is co-financed by bank loans and the €10 bricks. This makes it possible for us to invest in a property/building by buying one or more bricks.
You can start using Bricks in the 3 simple steps:
1. Create your account
Creating an account is the first step which is very easy and requires basic identity proof like a valid passport. You can create your account by clicking here.
2. Validating the account
For validating, their banking partner Lemonway checks the validity of your identity documents. This step may take a few days.
3. Credit your Bricks wallet
To be able to invest in the properties on Bricks.co, you must have funds in your Bricks wallet. Remember to credit your Bricks wallet.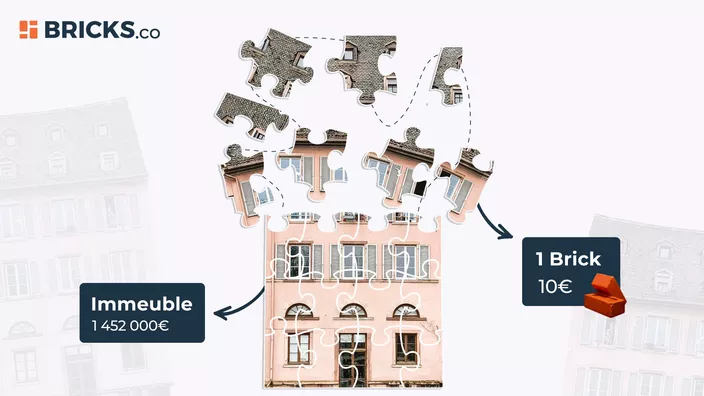 Advantages of investing in real estate with Bricks
One of the many advantages of investing in real estate with Bricks is that you have turnkey income without constraints. People often want to invest in real estate but have no time to devote to the management of a property. With Bricks, investment can be done with complete peace of mind, without even having to travel, and immediately receive income. Constraints such as tedious negotiations, long and expensive work, organization of visits, and inventory do not become a roadblock in this journey.
Secondly, you don't have to vet and select properties according to profitability. Bricks does this step for you too. Bricks strives to guarantee the selection of quality projects and optimal risk management. Their real estate agents follow astrict criteria and rigorously evaluate every operation.
Another great thing about investing with Bricks is that there is no income constraint or capital contribution. This really makes real estate investment accessible to all. Hence it is correctly an ideal solution for small budgets.
Lastly, You can resell your bricks at any time. In classic real estate investment, it is not always easy to resell your property or sell your SCPI shares. With Bricks, it's simple and fast!