Minglecon, the provider of gamification-based learning content, is expanding its current services. For preschoolers and lower elementary school students to be available for all age groups. The company has recently launched Zzam Zzam TOEIC. A learning aid that captures the interest and focus of teens who need to study TOEIC. But also college students and office workers who are trying to get jobs or change jobs. Now, the company is on its way to launch its online video content service in January 2021.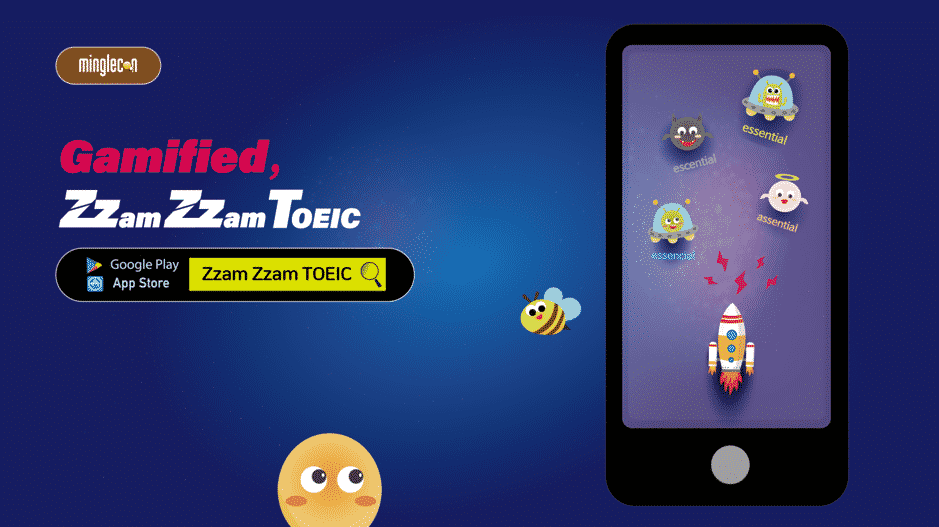 Minglecon – Skills learning gamification
With the hands-on kits, mobile apps, and the web, Minglecon provides gamification services by incorporating the concept of computational thinking into games and play to improve children's problem-solving skills, logical thinking skills, and creativity. Its major gamification services are Minglebot (12 sets of unplugged computing kits) for preschoolers and lower elementary school students. And the app "Minglebot, Help!" that can be practically liaised with the kit.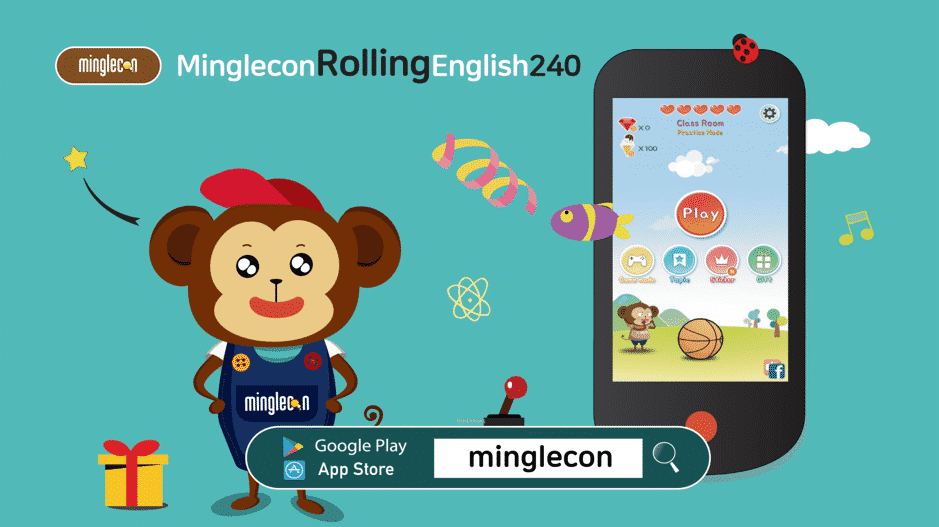 Also, there are other apps like Basketball English Vocabulary 240, Circus English Vocabulary 240, School English Vocabulary 240, and Jungle English Vocabulary 240 gamification, designed to improve the English skills of the users. As the company launched Zzam Zzam TOEIC this August. They expanded their learning services from preschoolers and elementary school students to adolescents and adults.
Minglecon Zzam Zzam TOEIC – English made fun
Zzam Zzam TOEIC, which helps you memorize TOEIC words with fun with four types of games, has carefully selected 1,920 words and idioms necessary for the TOEIC. And covers learning and reviewing through a systematic learning system with six stages.
As the online video content service is newly launching due to COVID-19, the number of customers who want to experience Minglecon's learning content online is increasing. To meet these needs, Minglecon has signed a partnership with an online video service company, and has been fostering Edu Crew members who can develop high-quality content and teach more than 3,000 volumes of gamified content to the users.

Minglecon CEO Helen Jean
CEO Helen Jean has received a Ph.D. in Applied English Linguistics and she has written several books. Including the "Practical Guidebook for Content Developer for Children's English Education" and "Children's English Education Teacher Development Book". She is eager to make an eco platform by fostering the Edu Crew members as both professional content developers and educators.
Despite the difficulties in expanding the sales channel due to COVID-19, Minglecon is making steady progress in the global market with Minglebot. The 12-set unplugged computational kit in multiple languages (Korean, English, Chinese, Vietnamese, and Thai), the globally launched app Minglebot, Help! and four Minglecon English Word 240 series.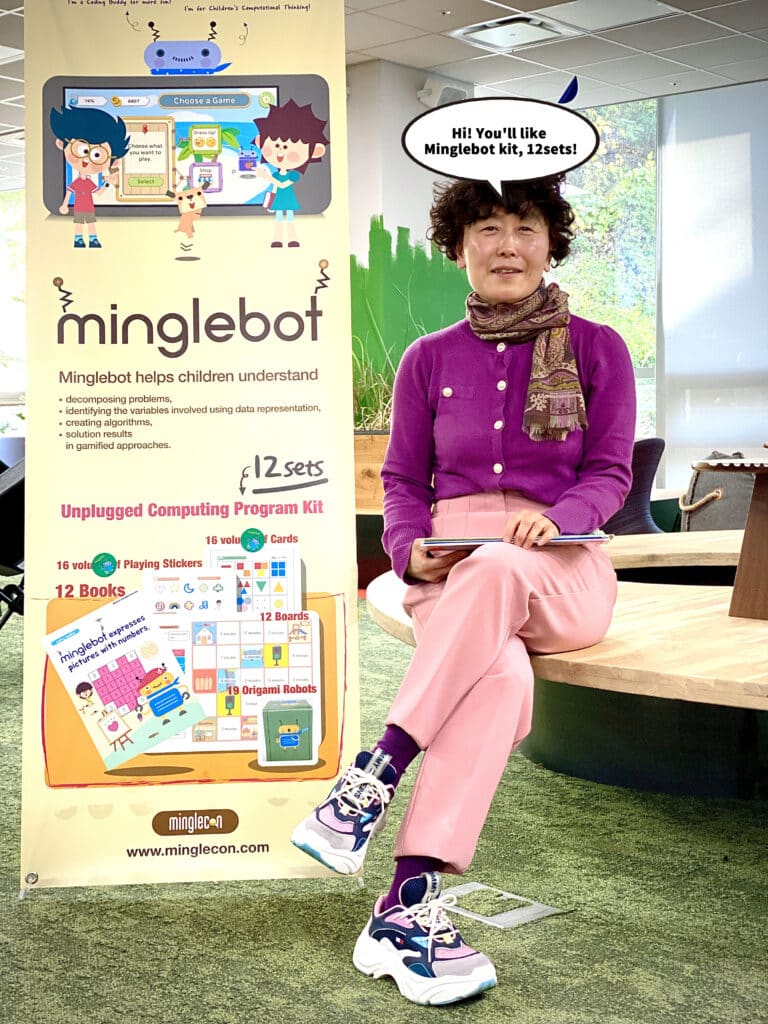 Kids play games and learn English
Minglebot is especially receiving spotlights in the global markets. CEO Helen Jean said, "Countries like India, Indonesia, and Thailand are highly interested in the Minglebot that combines computational thinking skills with play and games. We have also participated in the overseas IR event promoted by Gyeonggi-do and Gyeonggido Business & Science Accelerator and presented our service to the venture capital in India and we are working to take the next step."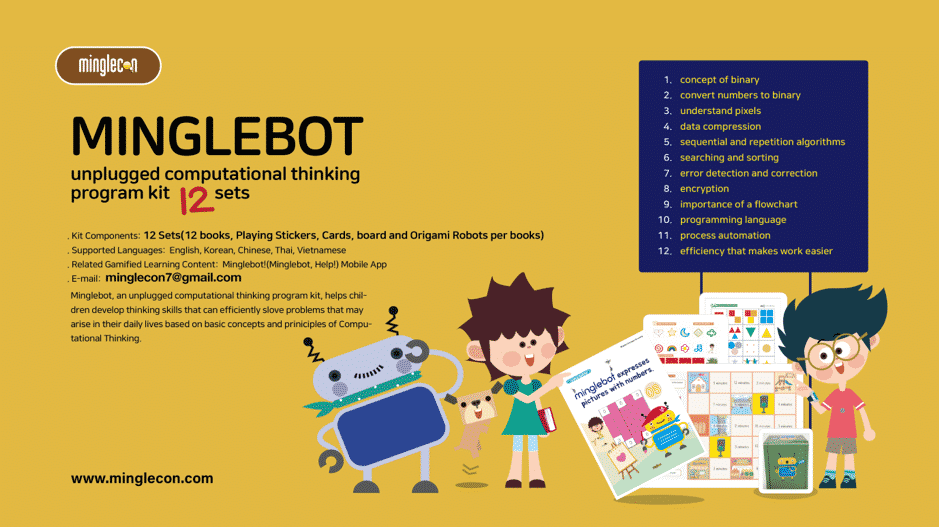 She then said. "Minglecon is on the track of Knowledge Industry service now and we are expanding into the Health care Industry Service. Like digital therapeutics for a better life for the users with our gamification service". Also added that convergence gamification with Ai robots and STEAM robots are working in progress with the partnership companies.