Korea has been seen being on the front of the technology revolution to make sure the show goes on even if another pandemic situation ever arises. Among them, the Community-Hospital Integrated Management Smart Mental Care Service Model Demonstration using bio-signal-based contact-free VR content was carried out by SY INFOTECH Co., Ltd. and Pusan National University Hospital as participating organizations, while Busan and Dongnae-gu participated as demand organizations.
What is Community-Hospital Integrated Management Smart Mental Care Service?
Community-Hospital Integrated Management Smart Mental Care Service was developed as a monitoring system to effectively evaluate changes in depression, anxiety, stress, and quality of life. These are the major indicators of mental health in the community. This service can be used for rehabilitation training of dementia patients at general social welfare centers. Futhermore, at public health centers, dementia relief centers, and welfare facilities for the elderly patients too. Also, it is a VR-based contact-free smart mental care service. This can also be used for rehabilitation training at disabled welfare centers, health centers, special schools, and homes.
A health promotion model is required in the pre-treatment stage to mediate depression or anxiety. NCOM Co., Ltd. emphasizes, "An ICT-based expandable intervention model is needed to overcome the limitations of the supply of intervention models. So that contact-free health care services can be effectively delivered to residents."
Establishing an integrated community-hospital intervention model using VR content has emerged as an alternative to solving this problem.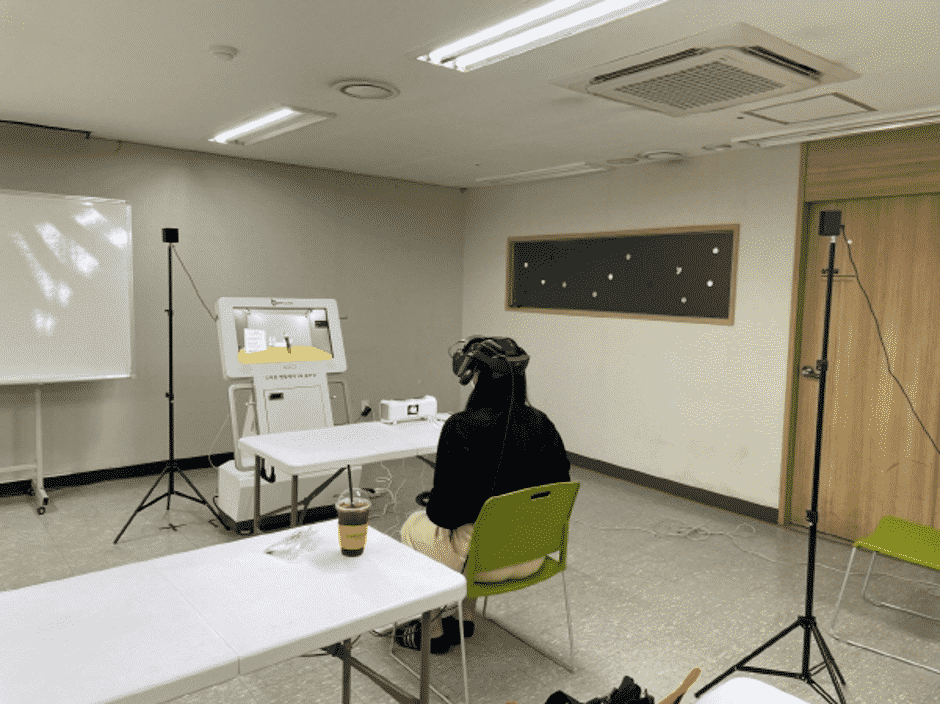 Community-hospital integrated management smart mental care services can be largely divided into twp groups. The "customized cognitive rehabilitation system for the elderly with mild cognitive impairment". And "providing sensory VR contents. Among them, the customized cognitive rehabilitation system includes smart grips. And VR content for improving mild cognitive impairment, and VR devices. Smart grips can be used to participate in rehabilitation games by providing input signals to VR devices. In addition, this service provides sensory VR folk game content. That can maximize body functional balance, movement recovery, immersion, and interest. And can manage individual rehabilitation training. By selecting the difficulty of the game and storing the game results into the database.
Growth prospects of the service
The mental health technology, market and academic activities estimated by the WHO have been on the rise since the 2000s. And in Korea, the number of patent applications for mental health technology and domestic papers has been increasing. According to statistics from the Korean Health Industry Development Institute, the global smart healthcare market, grew about 4.8 times. As it reached $101.5 billion in 2020. It remained at $21 billion as of 2014.
In particular, as VR and artificial intelligence technologies are applied to the medical field and the global artificial intelligence-based smart healthcare. Market is growing rapidly at an annual average of 42%. Among them, digital treatments are expected to grow rapidly. Based on the expansion of smartphone supplies, 5G technology development, low-cost, high-efficiency treatments, increased healthcare integration and patient-centered treatments, and expansion of contact-free services.
NCOM's model demonstration
As a result of NCOM's health promotion model demonstration project in the pre-treatment stage for smart mental care services in the community. Smart mental care services against depression, anxiety, and stress improved the quality of life by more than 20%. NCOM stated, "If you reduce the socioeconomic cost of mental behavioral disorders by 10%, you can achieve a savings of about 1.4 trillion won," "This service is also highly likely to preoccupy the market. Because it is receiving high global attention as a VR game-based digital treatment. That induces immersion and interest by providing mental care services through virtual space without any physical restrictions." they added.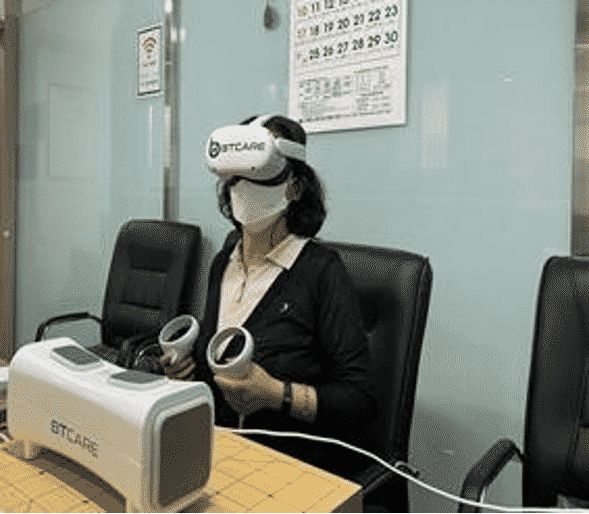 In the process of promoting the "Community-Hospital Integrated Management Smart Mental Care Service Model Demonstration" project, NCOM, an implementation agency, was in charge of building and operating contact-free service platforms and systems. SY INOTECH and Pusan National University Hospital, which are participating organizations, were in charge of developing and building VR mental care service products and developing VR mental care service protocols. Also, Busan Metropolitan City and Dongnae-gu, which participated as demand institutions, supported the administration of institutions participating in service demonstration.