COVID-19 caused a semiconductor crisis, and the price of various semiconductor device, which were inevitably used for battery system control, increased by as much as 40 times. Also, the supply and demand schedule increased by 4 to 5 times. In the midst of this, the number of devices required was increasing since the battery management system of V SPACE was two-fold for aviation. By changing the device to one with more readily available supply, and changing the design of the electronic circuit, they were able to solve the production setbacks problems. As a result, it gained recognition in the market as a start-up with minimal delay in delivery despite COVID-19, and more orders were placed. In other words, the development expertise of the battery management system and its own circuit design capabilities turned V SPACE's crisis into an opportunity.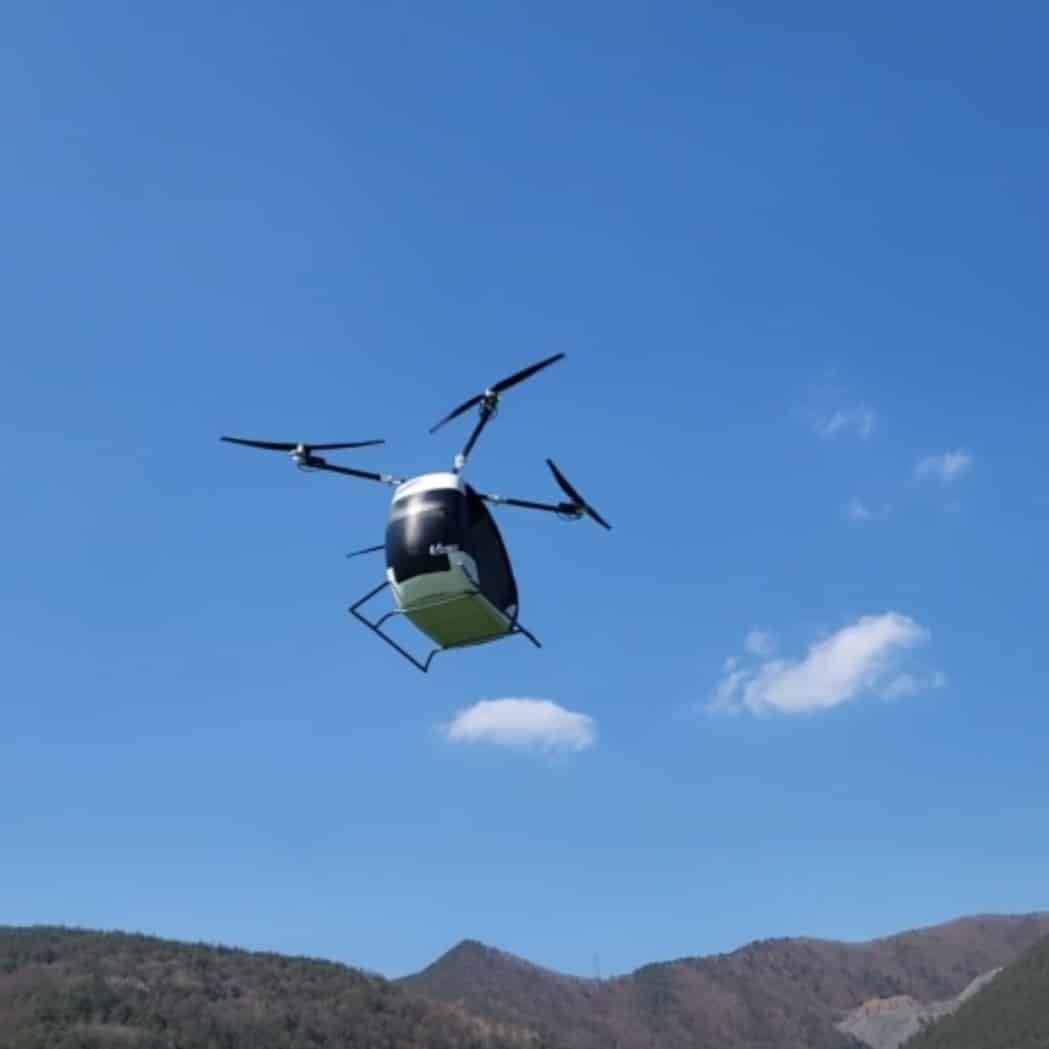 An electric aircraft by V Space
V SPACE's UAM is a purely electric aircraft that can vertical take-off and land anywhere, and with the dual flight control system and battery control system, normal flight is possible even if one system fails during flight. It can fly at a maximum speed of 100 km/h, and the maximum cruising distance depends on the battery capacity.
V SPACE is the first East Asian country toapply an overhead rotor, explaining that it has a maximum take-off weight of 220 kg and boasts 9 times better performance than the existing mid-to-large drones when performing special missions such as extinguishing forest fires withouta manned transportation. Unlike the previously published overseas UAM aircraft, V SPACE's aircraft will apply a hydrogen hybrid method in the future, and a significant improvement in cruising distance is expected in the final stage of completion.
V SPACE plans to commercialize gas, that can be used in mountainous terrain and islands within this year, by applying a large number of next-generation technologies such as hydrogen hybrid, high-density, high-power, and high-safety battery system, and aims to present a model that has officially been approved by the Federal Aviation Administration (FAA) or European Union Aviation Safety Agency (EASA) by 2025, in order to secure its position in UAMs, the future of urban mobility.
A word from the company
We are planning to release a low-altitude UAM aircraft with the aim of releasing commercial models within this year, and we will commercialize batteries, motors, FCs, etc. with altitudes and speeds that do not cause casualties during manned flights. Currently, the aircraft is capable of high altitude and GPS-based autonomous flight, and the battery and operation status of the aircraft is transmitted in real time through the control system. In the future, it is expected that the 5G-based communication networks and lidarwill allow for more precise autonomous flight, while further improving safety by enabling flight even in bad weather.
V SPACE, which showcased their one-seater UAM aircraft at the global air show and started global marketing, is planning to establish a UAM aircraft manufacturing plant within the year to become the smallest UAM mass-production startup in Korea. V SPACE plans to work hard to become an initial commercial demonstration of UAM, with the cooperation of Incheon International Airport Corporation, Incheon Technopark, and Incheon City.
Meanwhile, V SPACE is a participating company in the 'Incheon Airport 3K+ Startup Incubation Project', supported by Incheon Technopark. And the company said, "Through the 3K support program, we are able to promote our technology and raise brand awareness," adding, "We are grateful to be able to actively promote our services with various support such as Incheon Airport Metaverse Hall."