With the goal of making Seoul a global startup city, the Seoul Metropolitan Government has invested heavily in the creation of infrastructure for technology startups, investment in each growth stage such as nurturing talents, and establishment of a global network. As a result, remarkable achievements have been made such as attracting investment and technology startups, becoming a business incubation, and creating jobs.
Seoul – Challenge 1000 Startup project
Starting with the establishment of the New Technology Startup Center in Deungchon-dong, Seoul in 1995, the startup support policies such as the Youth Startup 1000 Project, the Challenge 1000 Project, and the operation of the Youth Startup Center have been steadily promoted to expand the foundation of the startup ecosystem from 2009 to 2016.
In addition, it has fostered more than 13,000 companies in 32 startup incubators such as the Seoul Startup Hub and Global Startup Center. At the same time, the job creation effect alone amounted to 17,536 people. These companies have contributed to the national economic development by investing 853.4 billion won and generating sales of 4.94 trillion won.
The biggest characteristic of StartupAccelerating by Seoul is that it has densely established startup bases throughout Seoul. There are a total of 44 places including startup incubators, prototype factories, and startup information exchange spaces (Seoul Startup Cafe), which is more than the number of certain franchises.(The total number of global franchise Popeyes in Korea is 39.) Seoul Metropolitan Government did not stop at simply providing spaces, but specialized each base by its characteristics. For example, Seoul Fintech Lab is situated in Yeouido, which is Korea's Wall Street, Seoul Bio Hub in Hongneung, where pharmaceutical and bio research complexes are concentrated, and Seoul Food Startup Center in Gil-dong, where food culture is developed. The Seoul Metropolitan Government granted benefits for the related startups to move in, and provided relevant startup programs.
Startup Genome Seoul in the top 20 in the world
Startup Genome, an American global startup ecosystem research institute, selected Seoul as one of the global top 20 startup cities last year. There are continuous positive evaluations of Seoul's active startup support policy within Korea and abroad.
Startup Genome announced last June that Seoul's startup ecosystem had entered the top 20 among 270 cities in 100 countries through the city's long-term investment and startup support policies.
Global Startup Ecosystem Report (GSER), An Asian technology innovation hub with its high R&D capabilities and patent applications, highly evaluated Seoul's active investment in AI, fintech, and life sciences.
Particularly, GSER introduced that Seoul is "an attractive city for entrepreneurs" considering a startup support system, such as an innovative growth fund of more than 2 trillion won, and close support for new startups throughout the entire cycle.
In addition, the Seoul Metropolitan Government supported investments for technical manpower cost, R&D, productization, and market development support despite the prolonged COVID-19, so that promising startups in Seoul would not miss growth opportunities.
In August of last year, when venture capital (VC) funds temporarily dried up, the Seoul Metropolitan Government prepared a policy to support 100 promising startups with a 'growth promotion comprehensive package' worth 10 billion won.Individual companies that received support of up to 100 million won were able to spend their funds in necessary fields such as commercialization, R&D, employment, and market development without a liquidity crisis.
An AI startup that benefit from the program
Apptest A.I, a startup that provides AI-based app testing services, also benefited from the growth promotion comprehensive package. By becoming a technology partner of Samsung Electronics and Hyundai Motors at a right time, APPtest A.I. is now possible to supply the products to the world. Jaejun Hwang, CEO of AppTest AI, said, "While pondering about expanding the product line to large corporate customers, we received the growth promotion comprehensive package funds and were able to develop new products on time. We also received help attracting investment in order to register domestic and foreign patent applications, which had been on a low priority due to financial issues."
Through such daring policy support, the city has laid the groundwork to preoccupy the market by overcoming the crisis without dampening the growth of startups. As a result, Seoul is evaluated as creating a broad and diverse startup ecosystem considering that 70% of the preliminary unicorns selected by the Ministry of SMEs and Startups are businesses that has been supported by Seoul Metropolitan Government in each growth stage with the help of growth funds and technical manpower.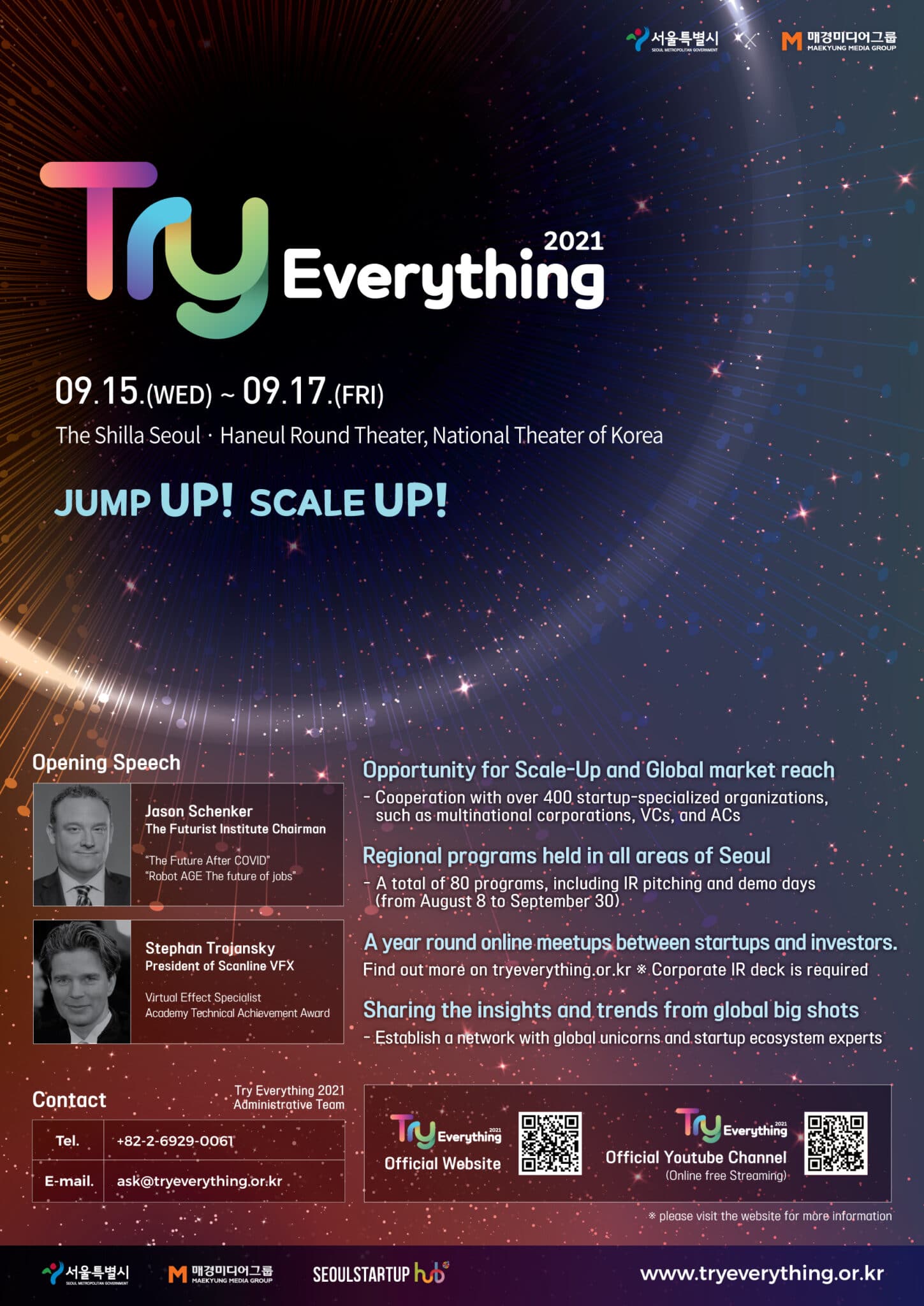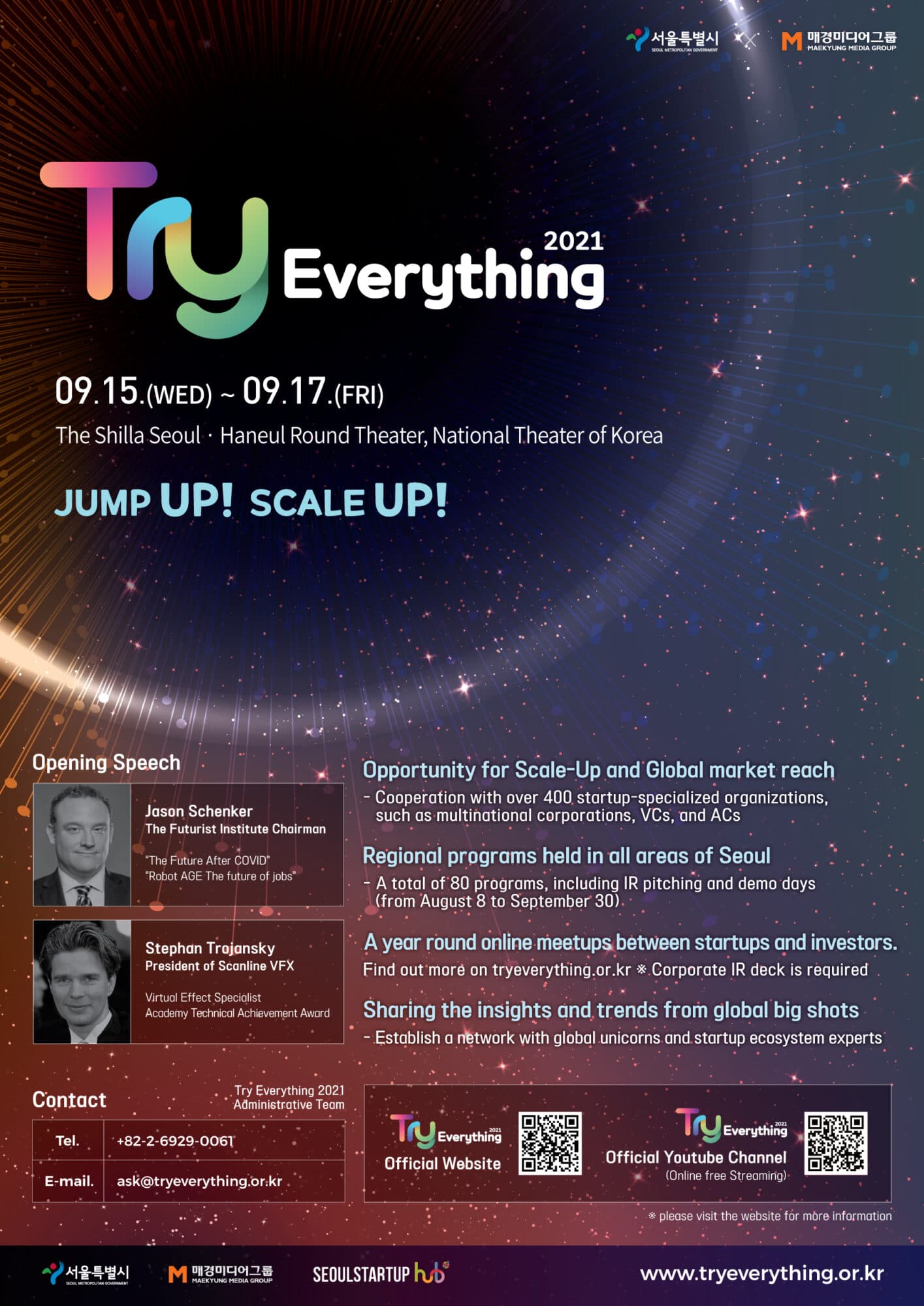 Seoul Try Everything festival
Seoul Metropolitan Government continues the dynamic growth atmosphere of this startup ecosystem. The city is also holding a global start up festival 'Try Everything' every year, where promising startups, investors, and accelerators from all over the world in order to establish networks with investors. The festival will be held for three days from September 15 (Wed) to 17 (Fri).
'Try Everything' started with the Global Startup Festival (Tech Rise) held in 2019 to revitalize the startup ecosystem by the Seoul Metropolitan Government. It will be held jointly with Maekyung Media Group from 2020 under the name of Try Everything, which emphasizes the challenging spirit of startups that 'try everything without fear of failure'.
Last year, a total of 33,450 people attended online despite the COVID-19 situation. Alphabet (Google parent company) Chairman John Hennessy, global VC Tim Draper, and Alibaba Founder Jack Ma were among the speakers. 237 global startup ecosystem experts and 45 investment companies from 10 countries including the US, China, France, and Canada participated in the event held both online and offline under strict quarantine restrictions.
Try Everything, which will be held at the Shilla Hotel in Seoul this year, has expanded in scale compared to last year.More than 400 organizations including global startup experts from more than 15 countries, global conglomerates, VC/Acc, and startup specialized organizations will be participating. About 80 startup programs focused on global expansion will be operated from August 1st to September 30th in all regions of Seoul. In particular, as it is a stage for startups, an online meetup system is operated so that investment discussions can take place easily between startups and investors. The main event will be held simultaneously on and offline for three days from September 15 to 17, and anyone can participate through the official website and YouTube (Try Everything 2021).
We will make Seoul a startup city that supports startups, and will continue to support beyond the startup phaseto become medium-sized companies. Even thought the current number of unicorn companies only eight, we will triple the number of unicorn companies in Seoul through the step-by-step customized startup support policy.

Taehoon Lee, head of Seoul Startup Hub