The boom in Healthtech is no surprise as the pandemic brought forth 10 years of market evolution in 10 months. Last year, investment in the sector jumped $750m from 2019. iLoFis Oxford-based startup, which stands for Intelligent Lab on Fiber. It is riding high on the pandemic induced boost. It has created the world's first digital library for the identification of disease biomarkers and biological profiles. That is, iLoF has turned blood into a cloud-based fingerprint library.
In simple terms, they're creating a database of disease subtypes that pharmaceutical companies can use to make clinical trials up to 70% quicker and 40% cheaper.
Co-founder and chief operating officer Mehak Mumtaz talked about personalized disease treatment and how Oxford turns academics into entrepreneurs.
The Principal behind iLoF's idea – All patients react differently
There is a simple principle working behind iLof – all diseases are different, and so are people. Hence, patients should receive personalized treatment.
"The current blockbuster approach to drug development assumes that all patients with a particular condition respond similarly to a given drug, so all patients with the same condition receive the same first-line treatment even though it might only be 30% to 60% effective," says Mumtaz.
Why iLoF is turning blood into a fingerprint library of neurodegenerative diseases?
"One disease may have many different forms or subtypes. Therefore, to improve how the disease is treated, the treatment needs to be tailored."
This is where iLoF comes in. Its cloud-based platform works by firstly, collecting a few drops of blood from patients. Secondly, personalized biological profiles of different disease subtypes are created using those samples. Lastly, these are uploaded to its virtual database, which acts as a digital library for fingerprints of neurodegenerative diseases.
Hence, making testing more efficient and speeding up the development of new treatments. To date, iLoF has focused its technology on Alzheimer's disease, building partnerships with biobanks, pharmaceutical companies, and academic research teams.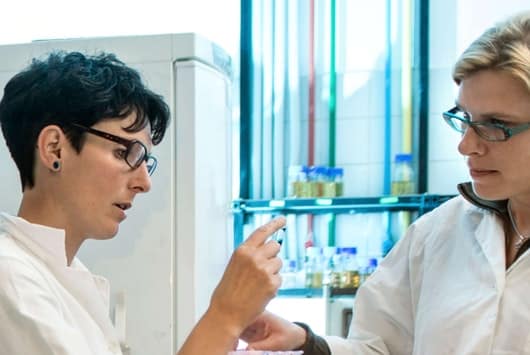 What all diseases have been classified by iLoF till now by turning blood into fingerprint library?
By turning blood into a digital fingerprint library, iLoF has focused on Alzheimer's. Now, during a pandemic, iLoF's team pivoted to developing a model that can classify Covid-19 infections, allowing them to test whether individuals are asymptomatic and predict the severity of the disease. In the future, iLoF aims to expand its digital library of data into other brain diseases, revolutionizing personalized treatment in patients with brain tumors and Parkinson's disease, among others.
"Our goal is to become the smart platform that democratizes access to personalized medicine for millions of people living with complex diseases around the globe," says Mumtaz.
A little about iLoF and its team
Founded in 2019, iLoF's team of 16 employees is split between Porto, Portugal, and Oxford, UK. Mumtaz met her cofounders — CEO Luis Valente, chief technology officer Joana Paiva, and chief science officer Paula Sampaio — while participating in EIT Health's Wild Card program, which helps researchers and scientists commercialize their ideas. After completing the 10-week program, iLoF secured €2m investment from EIT Health to take the venture full-time.
Mumtaz is a long-time champion of Oxford as iLoF's UK base. Having completed her undergraduate and postgraduate degrees at the University of Oxford, she also worked alongside spinout incubator Oxford University Innovation. In November 2019 she got accepted onto its L.E.V8 accelerator program. This is when she set up the commercial arm of iLoF at the Oxford Foundry with the research and development team remaining in Porto.
"Oxford has one of the best research ecosystems and is a hotbed for biotech and health tech startups. The best part is that everything is in a five-mile radius, which really fosters interaction."
Commercializing academic ideas
Mumtaz also credits Oxford University Innovation with creating an environment that helps academics become entrepreneurs.
"As an academic, navigating the commercialization process can be tricky if you don't have previous experience. Having experts who can guide and support you through IP, financing, and business plans are super helpful for budding scientific entrepreneurs," she says.
iLoF secured a further $1m in funding from Microsoft's venture fund M12, Mayfield, and Melinda Gates's Pivotal Ventures after winning its Female Founders competition.
But Mumtaz still sees Oxford as the best place for iLoF, and other startups, to gain business knowledge and insight.
"Whatever stage you are, whether you're just exploring entrepreneurship, looking for feedback, or wanting to grow and scale, there are multiple actors with experience and support at Oxford," she says.
"As an academic, navigating the commercialisation process can be tricky if you don't have previous experience."
"It's about making the most of the university's resources, seeking out other founders, and learning from what others have done. Above all, it's about enjoying the ride. This is one of the most exciting and fun things you can do, so enjoy it."