The COVID-19 industry that has been most significantly impacted is education. Businesses continue to run online and from remote locations. The healthcare industry is operating as usual. However, among the most negatively impacted companies are educational institutions. Edtech startups have filled the gap in the meantime.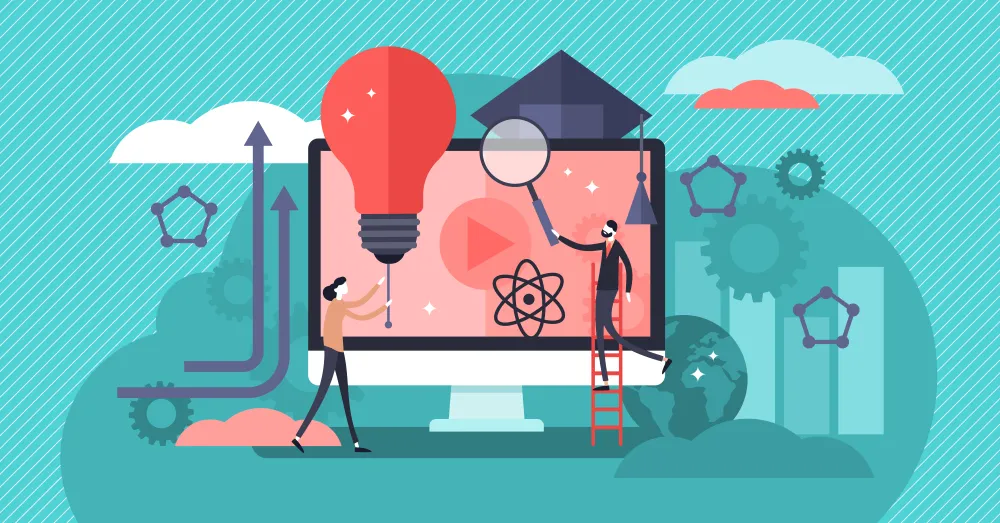 Global lockdowns and school closings have spawned EdTech companies. While universities and colleges are using online platform, existing firms in that industry tend to expand.
The worldwide Edtech market is anticipated to increase to 112.39 billion USD by 2025, growing at an annualized rate of 17.85 percent. The spotlight may be focused on well-known brands like Teachable, MasterClass, and Udemy. However, there are a lot of smaller, rapidly expanding Edtech businesses to watch in 2022 and beyond.
This post will go over the EdTech startups you need to be paying attention to in 2022 as they. These educational startups have the chance to dominate the EdTech industry with vigorous training programs. The startups included on the list were established in the post-pandemic year of 2022.
1. MegaCampus – Top Pick in Edtech startups
A Russian business and one of leading Education startups Megacampus was established in 2021 to serve as a social network for educators, students, and employers. They want to offer a place where instructors can teach, recruiters can look for new employees, and students can network and learn. They function as an aggregator of edtech. Visit their website to find out more about their concept.
2. Guild Education
Guild is a mission-driven, female-founded, venture-funded business dedicated to increasing opportunities for the American workforce via education. With the help of a digital platform and a diversified academic network of the top colleges for working adults, Guild collaborates with top businesses to develop smart education benefits packages for their employees.
3. Out School
Small live courses on an educational platform have been developed by Outschool specifically for homeschooling. Students and parents may pick from more than 1,000 live classes specifically created for kids, such as dance, art, STEM skills, and anthropology.
140,000 lessons overall have been taken by five lacs students through the firm to far. Outschool is currently valued at 3 billion USD, and the platform has reportedly brought in 45 million USD from teachers.
4. Duolingo
The language-learning education platform Duolingo provides 98 total courses in close to 40 different languages. The most well-liked method for learning a language worldwide is Duolingo. Creating the greatest education possible and making it accessible to everyone is our goal.
The most downloaded educational software in App Store history, Duolingo was created in 2011 by Luis von Ahn and Severin Hacker, and in 2019 it surpassed all other educational apps in terms of revenue. Both Android's Best of the Best and Apple's iPhone App of the Year awards have been given to the app.
5. Beetle
Beetle just debuted in July 2021. They had a fantastic concept when they started out as a community for high school and college students: they could gather all the details about jobs, talents, and internships under one roof.
It ends the hardship that every college student endures during their academic career. Additionally, they hope to encourage teen mental health by building an online community where people may network. Their online presence and community are still being built.
6. Preply
Preply is an international tutor community where you may locate teachers that speak a range of languages. For individuals who prefer a tutor to guide them in a more structured direction, the Preply platform also offers a "planned learning" solution.
Preply rates instructors centered on an algorithm for machine learning in addition to rankings. Over 100,000 pupils are reportedly using the company's platform.
7. SendPulse Edu
A recent endeavor by the Ukrainian firm SendPulse is a worthwhile addition to the list of educational startups to consider. The business has a long history of operation in the marketing automation sector. The SendPulse team was motivated to develop an online learning platform where instructors and business owners may make online courses and market them all in one location by the service's expanding user base and popularity.
Users have a variety of ways to communicate with their consumers at their disposal, including SMS advertising, Facebook and Instagram chatbots, and email marketing. Additionally, a free CRM and a custom landing page builder are available for lead creation and student profile management, respectively.
8. NeighborSchools
NeighborSchools is on a quest to completely reimagine child care. The issue is that large child care facilities have to charge parents a lot because operating costs are so high, and yet there is still very little money left over for the caregivers. As a result, families struggle to locate high-quality childcare and the finest nannies are forced to quit child care in quest of higher pay.
At NeighborSchools, they have created a brand-new approach that prioritizes individuals. We assist individual caregivers in becoming autonomous, obtaining a license, starting micro-daycares in their homes, and interacting with neighborhood families. Even though they charge parents less for child care, caregivers who open day cares on NeighborSchools make 2-3 times more money than preschool teachers.
9. Byju's
While Byju's covers the complete K–12 range of schooling, Math and Science are given the most attention. With a valuation of 5.4 billion USD, Byju's was the most valuable education technology business in 2019.
Students can access the website or app to take video classes. Byju's is currently among the most prosperous startups. From a straightforward educational platform, it has evolved into an actual source of learning today.
The kids are impressed by the gamification of the subject matter, which makes learning enjoyable. Byju's, a cutting-edge firm, makes e-learning accessible and simple for everyone.